SpaceX posts stunning footage of Falcon Heavy on Florida launchpad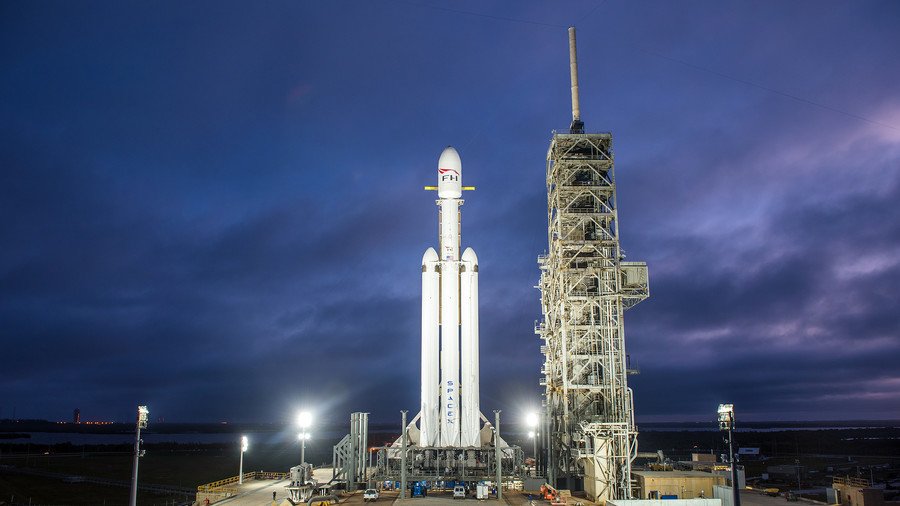 SpaceX rolled out its new Falcon Heavy rocket at its Florida facility this week. The company plans to conduct a series of tests designed to prepare the rocket for launch later this month.
The rocket is said to be the most powerful ever created, with 27 engines supplying up to five million pounds of thrust at liftoff. SpaceX claims the rocket will be capable of carrying 140,000lbs of cargo into space, with its three cores designed to safely come back to Earth where they can be reused for future missions.
The aeronautics firm posted a video of the Falcon Heavy, ostensibly three Falcon 9 rocket cores strapped together, to its Twitter feed Wednesday. The powerful rocket is seen standing erect on the launchpad at Cape Canaveral in Florida, but was reportedly taken down and laid horizontally in preparation for a series of static test firings.
READ MORE: Bring it on: Musk unfazed as Boeing vows to beat SpaceX in Mars race
What little is known about the project is bizarre and extreme, with Musk saying the rocket will go into a "billion year elliptic Mars orbit" holding a Tesla Roadster in its nose. "Test flights of new rockets usually contain mass simulators in the form of concrete or steel blocks. That seemed extremely boring," SpaceX founder Elon Musk wrote on Instagram last month, adding that the car would play David Bowie's Space Oddity on a loop.
Tech entrepreneur Musk has tweeted a number of pictures of the rocket in recent weeks, and teased the unveiling following the launch of his Falcon 9 rocket on December 23.
The Falcon Heavy's claim to being the most powerful ever, seems somewhat dubious. According to NASA figures, the Saturn V rocket that took the Apollo missions to the moon were capable of around 7.5 million pounds of thrust. However, it could only carry 100,000lbs beyond Earth's orbit.
You can share this story on social media: