DOJ probing why McCabe took 3 weeks to examine Clinton emails during election – report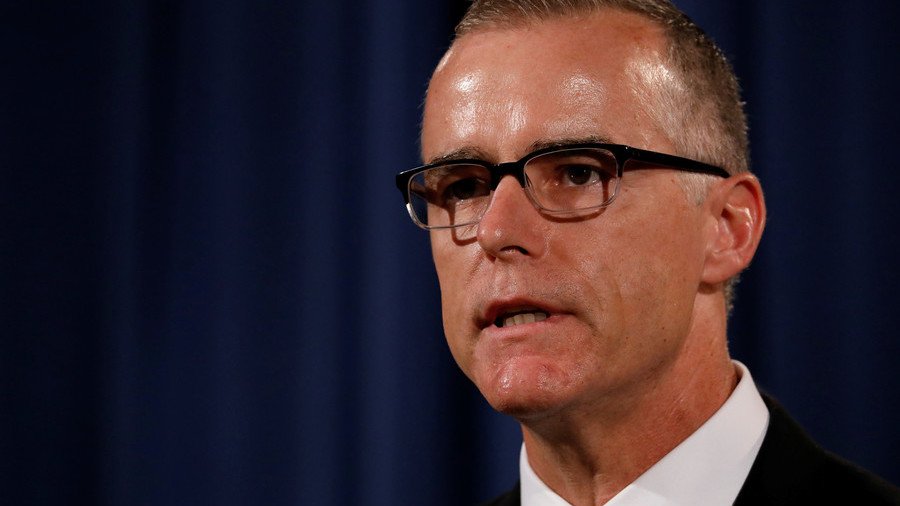 The Justice Department is investigating why former FBI deputy director Andrew McCabe took three weeks to act on a request to examine Hillary Clinton's emails discovered late in the 2016 election.
The DOJ's inspector general, Michael E. Horowitz, has been asking witnesses why McCabe, who unexpectedly resigned from his post Monday, and other bureau staff seemed unwilling to analyze the batch of emails until late October – some three weeks after the bureau was alerted, sources told The Washington Post on condition of anonymity.
There's also the question whether McCabe or his colleagues intentionally avoided taking action until after the November 8 election. It is currently unclear whether that question has been answered.
As part of his investigation, Horowitz is seeking to determine exactly who at the FBI and the Justice Department knew about the Clinton emails which were found on the laptop of former Rep. Anthony Weiner (D-NY). McCabe is reportedly a key figure in that probe.
The report comes two days after McCabe suddenly resigned from his post Monday. There was immediate speculation that McCabe stepped down in anticipation of the release of the inspector general's report on how the FBI handled the email investigation.
In a memo from FBI director Christopher Wray to all bureau employees Monday night, he reportedly made clear that McCabe's decision was the result of information which will be detailed in the inspector general's report due to be released this spring, according to NBC News which obtained a copy of the message.
The handling of the Clinton emails has long been a source of criticism from both Democrats and Republicans. The Democratic Party say the FBI's decision to reopen the investigation swung the election in favor of Donald Trump, while the GOP say the FBI let Clinton off without charges because of agents' political bias.
Think your friends would be interested? Share this story!
You can share this story on social media: