House intel panel votes to release FBI, DOJ surveillance abuse memo in partisan vote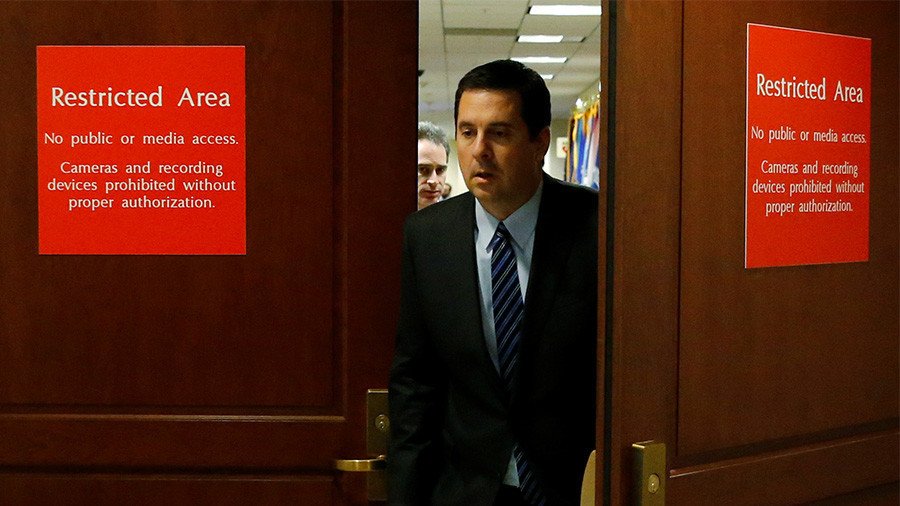 The Republican-led House Intelligence Committee has voted to publish a memo reportedly alleging surveillance abuses by the FBI and the DOJ, composed by the panel's chairman, Representative Devin Nunes (R-California).
The declassification process moves on to President Donald Trump, who will have five days to decide whether or not to release the document.
The Nunes memo alleges abuse of surveillance powers by the US Department of Justice. Democrats, however, claim it is a politically-motivated document to undermine the special counsel investigation into alleged Russian meddling in the 2016 election.
The memo's contents are unknown. According to media reports, it shows the FBI sought a FISA warrant against former Trump adviser Carter Page from the secretive Foreign Intelligence Surveillance Court, without disclosing that its evidence was based on the infamous Trump-Russia dossier, also known as the Steele dossier, which was funded by the Hillary Clinton campaign as opposition research against Trump.
The New York Times has reported that the memo shows Deputy Attorney General Rod Rosenstein approved the warrant application. Rosenstein appointed Robert Mueller as the special counsel heading up the Russia investigation after Attorney General Jeff Sessions removed himself from the investigation.
The ranking minority member of the committee, Rep. Adam Schiff (D-California), told reporters Monday evening that the partisan vote "crossed a deeply regrettable line." Schiff added that the declassification process had been politicized.
Schiff had motioned to make public both the Republican-led memo as well as his own party's memo, which the rest of the committee had not seen. That vote failed, and was then followed by a vote to release the GOP's memo, which has been available to Congress for over a week.
"The 'Release The Memo' crowd apparently doesn't want to release the memo now," Schiff said.
The Republican members on the panel did approve a motion to release the Democratic memo exclusively to Congress, but not the wider public.
FBI Director Christopher Wray saw the Nunes memo on Sunday, according to Fox News. The next morning, FBI Deputy Director Andrew McCabe announced his early resignation.
READ MORE: DOJ warns release of House Intel memo on FBI, Clinton campaign could 'harm national security'
According to Bloomberg, Assistant Attorney General Stephen Boyd wrote to Nunes on Monday morning, warning that releasing the memo without the DOJ previewing the document first would be "extraordinarily reckless."
White House deputy press secretary Raj Shah told CNN on Monday morning that the DOJ "doesn't have a role" in the White House's pre-release review of the memo, The Hill reports.
You can share this story on social media: