DOJ extended surveillance of Trump campaign adviser over Steele dossier findings - report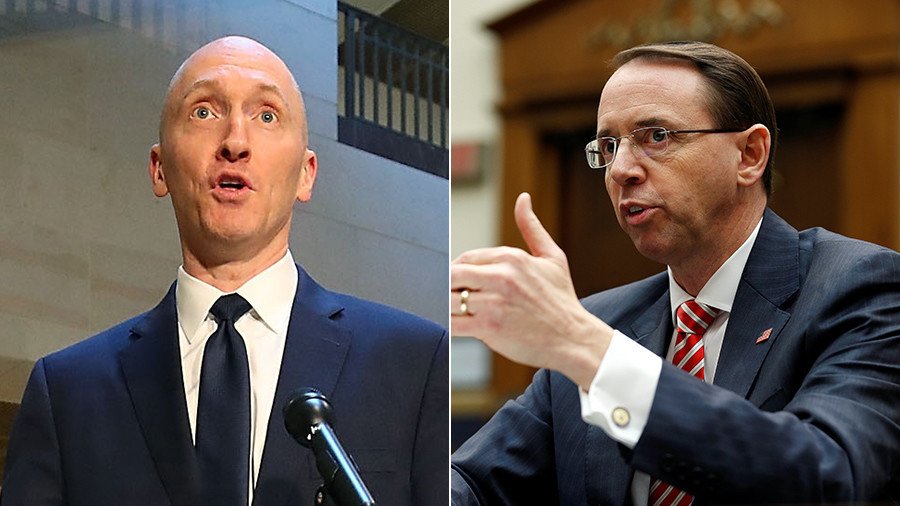 A House Intelligence Committee memo shows Deputy Attorney General Rod Rosenstein approved extending surveillance on former Trump campaign adviser Carter Page, based on allegations in the Steele dossier.
The request was made shortly after Rosenstein took office last spring, when Attorney General Jeff Sessions recused himself from the department's Russia investigation, said three people familiar with it, according to the New York Times.
The Republican memo is said to contain allegations that FBI and Department of Justice (DOJ) officials failed to fully explain to an intelligence court judge in seeking the extended surveillance of Page that it was relying in part on research by a former British intelligence agent, Christopher Steele, which had been financed by the Democratic National Committee and Hillary Clinton's presidential campaign.
Page, a Navy intelligence veteran and a former Moscow-based banker who later founded an investment company in New York, has allegedly been on the FBI's radar for years.
In 2013, an investigation claimed that a Russian spy had allegedly tried to recruit him although Page was never charged with any wrongdoing and has denied he would ever have cooperated with Russian intelligence officials, according to the New York Times.
A trip Page took to Russia in July 2016, while working on Trump's campaign as a foreign policy adviser, caught the attention of the bureau, and law enforcement began conducting surveillance on him in the fall of 2016, shortly after he left the campaign, reported the NYT.
The House Intelligence Committee could vote as early as Monday evening to release the controversial memo authored by committee chairman Devin Nunes (R-California) alleging surveillance abuses at the DOJ.
The panel issued a last-minute notice of a business meeting Monday evening for "consideration of pending committee business and other matters," according to The Hill. The memo did not specify a vote but there has been increased pressure in the media and on social media for disclosure under the hashtag #ReleaseTheMemo.
"I viewed the classified report from House Intel relating to the FBI, FISA abuses, the infamous Russian dossier, and so-called 'Russian collusion.' What I saw is absolutely shocking. This report needs to be released –– now. Americans deserve the truth. #ReleaseTheMemo," Rep. Mark Meadows of North Carolina said earlier in January about the four-page memo, reported New York Daily News.
Congressman Meadows was joined by other lawmakers who saw the memo, and who are pressing for its public release. The hashtag #ReleaseTheMemo has gone viral.
Critics argue Republicans could be using the memo to try and undermine Special Counsel Robert Mueller's investigation into the Trump campaign and alleged Russian interference in the election, if Rosenstein's decision to approve the surveillance renewal wasn't properly vetted.
Committee Democrats told The Hill the Republican memo is full of misleading points and have prepared their own to rebut the document.
No information has publicly emerged, however, that the DOJ or FBI did anything improper.
On November 2, 2017, Page testified to the US House Intelligence Committee that he had informed Jeff Sessions, Corey Lewandowski, Hope Hicks and other Trump campaign officials that he was traveling to Russia to give a speech in July 2016.
The White House, which has not viewed the memo, has signaled support for its release.
"I think the president is more inclined for transparency in this investigation," legislative affairs director Marc Short said on Fox News Sunday.
"To the extent that the House, I think, has advocated that it's publicly released, I think the president is receptive to that," he said.
You can share this story on social media: