US political breakdown hits Grammys, courtesy of Clinton 'Fire & Fury' sketch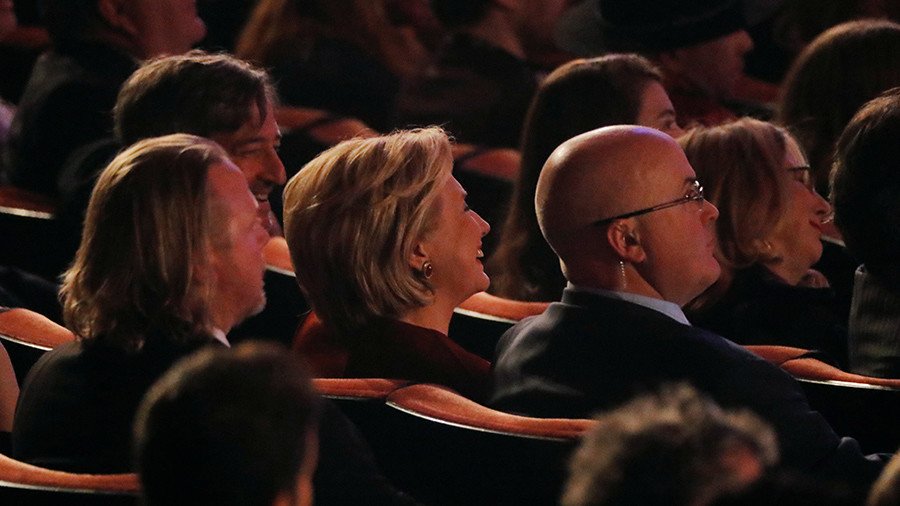 As US media and Hollywood continue to be obsessed with President Donald Trump, it came as no surprise that this year's Grammy awards ended up hijacked by politics, even as their ratings hit a new low.
Increasingly, it seems, there is no escape from the full-blown politicization of American life. From NFL football games, to university campuses to the Golden Globes, everywhere Americans cast their weary gaze they are confronted with polarizing political messages. Not even the music industry awards could provide temporary solace from this relentless atmosphere of divisiveness.
In an apparent cheap attempt to tap into that geyser of partisan rage lying just below the boiling surface of the US political landscape, somebody at the Grammys decided to have a celebrity reading interlude of Michael Wolff's 'Fire and Fury,' a massively controversial book about the Trump administration.
Late-night host James Corden, yet another British personality wading sloppily into the swamp of US politics, hosted a mock reading of the book by famous celebrities, which included Cher, Snoop Dogg, Cardi B and John Legend – none of whom, it should be noted, would ever toss Trump a lifeline if he needed one.
But the big moment of the night was when it was Hillary Clinton's turn to read a section from the book, which she devoted to Trump's reportedly occasional visit to McDonald's.
"He had a long-time fear of being poisoned. One reason why he liked to eat at McDonald's," Clinton read to hoots and hollers from the crowd. "Nobody knew he was coming and the food was safe and pre-made."
That was a new low – in terms or ratings, anyway, as Deadline reported a 20 percent decline from last year to "what looks to be an all-time low for the ceremony."
In fact, this was probably the first time many Americans would actually side with the US ambassador to the United Nations, Nikki Haley, who chimed in via Twitter: "I have always loved the Grammys but to have artists read the Fire and Fury book killed it. Don't ruin great music with trash. Some of us love music without the politics thrown in it."
Perhaps there is a future for Haley as an entertainment columnist as opposed to the face of the United States on the world stage?
Not to be outdone by Haley, Donald Trump Jr. let loose with this tweet: "Getting to read a #fakenews book excerpt at the Grammys seems like a great consolation prize for losing the presidency."
In the notorious CNN interview where the host cut him off, White House senior policy adviser Stephen Miller said the book can be "best understood as a work of very poorly written fiction," and called Wolff "a garbage author of a garbage book."
Clinton's critics from both left and right also had some thoughts about the former presidential candidate's cameo.
It is hard to fathom that the next US elections for the presidency is still three years away. Will the increasingly polarized United States of America survive until then?
Like this story? Share it with a friend!
You can share this story on social media: