Ukrainian prankster faces 5yrs behind bars for exposing buttocks on Eurovision stage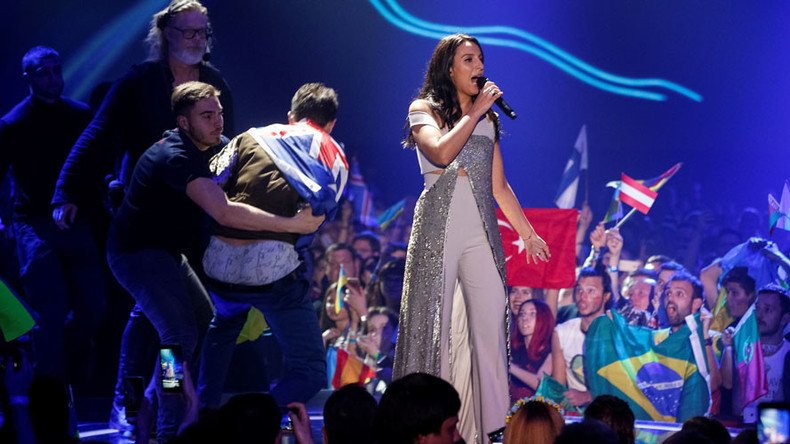 A Ukrainian prankster is facing five years in prison for ambushing a Eurovision performer on stage and exposing his backside. He is also notorious for failed attempts to kiss Kim Kardashian and Will Smith.
Vitaly Sediuk, who mooned crowds at the Eurovision song context while wearing an Australian flag, is now facing a fine or a five-year prison term.
"He was detained for 72 hours, until the court comes up with a sentence – a fine or up to five years in jail," Arsen Avakov, Ukraine's interior minister, wrote on Facebook.
"Now, this shame of our country can practice his hobby while in police custody," he added.
READ MORE: Buttock-punch 'ruined' Irish man's life, Dublin court told
Earlier, Sediuk had stormed the stage of the contest in Kiev, circling 2016 Eurovision winner Jamala, who was performing a half-time show. A moment later, he dropped his pants and exposed his buttocks to the public.
Last year, Sediuk famously ambushed Kim Kardashian in Paris. As the celebrity was stepping out of her car, the prankster assaulted her backside, apparently trying to kiss it.
The ambusher was caught on camera before being taken away by Kardashian's security detail.
A week earlier, Mr. Sediuk had approached Hadid during Milan Fashion Week and attempted to lift her off the ground.
At the 2013 Grammy Awards, Sediuk stormed the stage and accepted the prize on Adele's behalf.
A year earlier, the Ukrainian approached Will Smith, who was heading for an autograph session in Moscow. After telling the Men in Black star he was a big fan, the prankster tried to kiss him. The celebrity then slapped the Ukrainian in the face, saying, "That's your problem, buddy."
Ironically, Twitter users reacted to the Eurovision stunt as if Sediuk was an Australian fan, with one Eurovision commentator saying, "Get off the stage, Australia."
Other users viewed it as the best and funniest part of the song contest.
"Even if #Britain wins, we'll still come 2nd to an #Australian arse," wrote a user named Jennifer Cox.
Others thought he should have sung the 'Blue Moon', a famous ballad that has been performed by Frank Sinatra, Billie Holiday, and Elvis Presley.
You can share this story on social media: