Photo of Obama & Nation of Islam leader Farrakhan surfaces after 13 years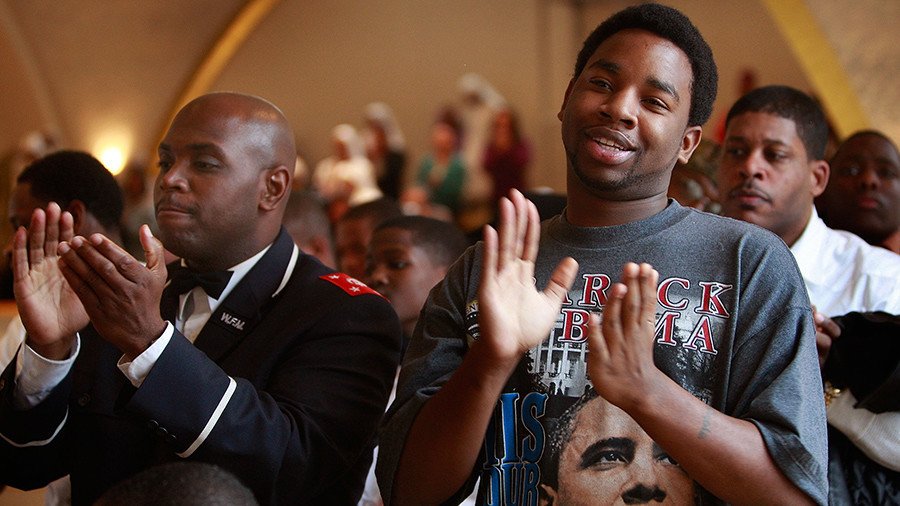 A photo of then-Illinois Senator Barack Obama smiling with the Minister of the Nation of Islam, Louis Farrakhan, has surfaced thirteen years later.
The photographer, Askia Muhammad, said he took the photo during a Congressional Black Caucus (CBC) meeting in 2005. He said he "gave up the picture at the time and basically swore secrecy."
Also in the picture is Farrakhan's son-in-law Leonard Farrakhan Muhammad, his son and security chief Mustapha Farrakhan, Minister Farrakhan's son Joshua Farrakhan, and the Reverend Willie Wilson, executive producer of the program for Farrakhan's Million Man March in 1995, and a chairman of the 20th anniversary.
Muhammad said a staff member for CBC contacted him "sort of in a panic."
"I understood what was going on," Muhammad told Talking Points Memo. "I promised and made arrangements to give the picture to Leonard Farrakhan (the minister's son-in-law and chief of staff.)"
Muhammad said he gave away "the disk" from his camera but "copied the photograph from that day onto a file" on his computer.
"Realizing that I had to give it up, I mean, it was sort of like a promise to keep the photograph secret," Muhammad said.
Muhammad believes if the photo had been released during Obama's presidential campaign, "it absolutely would have made a difference."
Obama's presidential campaign wasn't without controversy. ABC News ran a report in March 2008 about his Chicago pastor Jeremiah Wright's sermons, which were critical of the US government.
Among the comments were: "We bombed Hiroshima, we bombed Nagasaki, and we nuked far more than the thousands in New York and the Pentagon, and we never batted an eye ... and now we are indignant, because the stuff we have done overseas is now brought back into our own front yards. America's chickens are coming home to roost."
Obama denounced the statements but would not disown him as a person until the media pressure intensified. Obama was forced to speak more forcefully against his former pastor and said that he was "outraged" and "saddened" by his behavior. In May that year he resigned his membership in the church.
"After the nomination was secure and all the way up until the inauguration; then for eight years after he was President, it was kept under cover," Askia Muhammad told Trice Endey News Wire, who he first told about the photo.
He said he felt a bit more of ease about it after Farrakhan claimed in 2016 that Obama had visited his home in Chicago.
Muhammad contacted Farrakhan in the fall of 2017 with the "final manuscript" for a self-published book containing the photo.
"I sent him a copy of the manuscript suggesting that, showing him the picture, and saying to him, if he did not object, I was going to publish it," Muhammad said. "He had no objection."
Farrakhan is a minister who leads the Nation of Islam, a religious organization that holds black supremacist views.
Muhammad had previously served as the editor of Muhammad Speaks and as the head of the Washington office of The Final Call, the official newspapers of the Nation of Islam. He is currently news director at Pacifica's Washington DC radio station, WPFW.
You can share this story on social media: