Social media giants crack down on RT under Senate pressure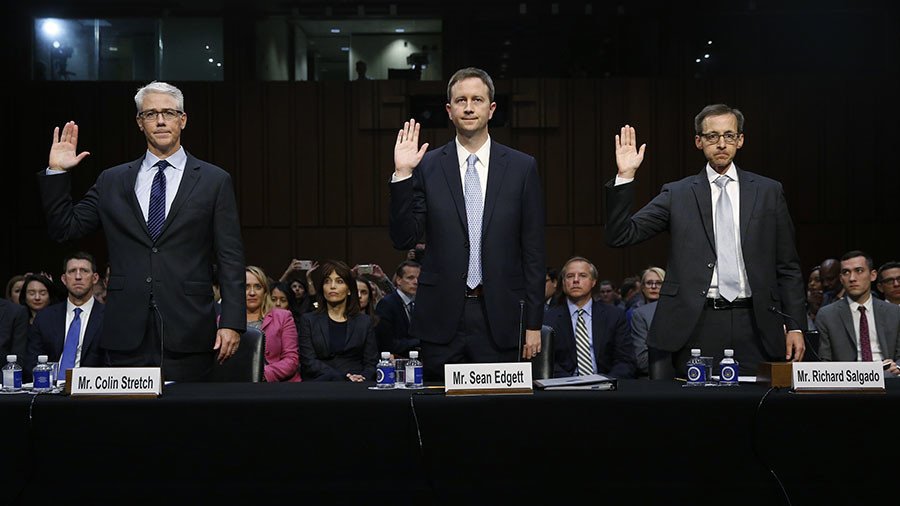 Facebook, Google and Twitter are taking action against RT in response to pressure from the Senate Intelligence Committee, but have found very little to indicate 'Russian meddling' in the 2016 elections, new documents show.
Google Search, for example, has labels "describing RT's relationship with the Russian Government" and the company is "working on disclosures to provide similar transparency on YouTube," according to a letter sent to the committee by Google's VP and general counsel Kent Walker.
Twitter has "off-boarded" RT and Sputnik "and will no longer allow those companies to purchase ad campaigns and promote Tweets on our platform,"said the letter from the company's acting general counsel Sean Edgett.
The letters were provided following the October 31, 2017 hearing at which the senators grilled social media executives on alleged Russian meddling in the 2016 presidential election via their products and services.
Senator Joe Manchin (D-West Virginia) was interested to know whether any of the companies accepted advertising from RT or Sputnik. Unlike Twitter, Facebook and Google continue to carry ads from both outlets. Google's Walker wrote that such ads remain subject to "strict ads policies and community guidelines," and that "to date, we've seen no evidence that they are violating these policies."
Walker added that Google took RT out of its Preferred Lineup on YouTube. In November, Eric Schmidt, chairman of Google's parent company Alphabet, told an international forum that he planned to "de-rank" RT and Sputnik in displayed search results.
Facebook's general counsel Colin Stretch wrote that RT and Sputnik can "use our advertising tools as long as they comply with Facebook's policies, including complying with applicable law."
Committee chairman Richard Burr (R-North Carolina) asked whether any of the companies provide any data to the Russian government. Twitter said it had received requests for data, but did not comply with any of them. Facebook said it had received 28 requests for data between 2013 and 2017, but that it "did not provide any data in response."
Google said it had "not complied with every request" but declined to provide any specifics, referring the senators to its Transparency Report. RT's analysis of that data shows that Google received 237 requests in the first half of 2016 and provided responses in 7 percent of cases. Another 234 requests came in the second half of the year, with a 15 percent response rate. There were 318 requests in 2017 with a 10 percent response rate.
Senator Kamala Harris (D-California) was very interested to hear what the social media companies are doing with the revenue supposedly earned from "Russian" advertising. Edgett's letter confirmed Twitter's commitment to donate the $1.9 million that RT had spent globally on ads to "academic research into elections and civic engagement." He did not specify the organizations that would benefit from this funding.
Although Stretch said that revenue from ads running on pages managed by the Internet Research Agency (IRA, usually described in the Western press as the "St. Petersburg troll farm") was "immaterial," he revealed that Facebook has contributed "hundreds of thousands of dollars" to the Defending Digital Democracy Project, an outfit based at the Harvard Kennedy School of Government "that works to secure democracies around the world from external influence."
Furthermore, the investments Facebook has made to "address election integrity and other security issues" have been so significant that "we have informed investors that we expect that the amount that we will spend will impact our profitability," Stretch added.
Google said the total amount of revenue from "Russian" ads amounted to $4,700, while the company has contributed $750,000 to the the Defending Digital Democracy Project.
The outfit is run by Eric Rosenbach, former assistant secretary of defense in the Obama administration. According to the Belfer Center at Harvard University, Rosenbach recruited Hillary Clinton's former campaign manager Robby Mook and Mitt Romney's 2012 campaign manager Matt Rhoades to co-chair the project.
Among the project's advisers is Marc Elias of Perkins Coie, the law firm that has represented Clinton and the DNC, and was revealed to have paid for the notorious "Steele Dossier." Another member of the project's senior advisory group is Dmitri Alperovitch, CEO of Crowdstrike, the private company hired by the DNC which originated the accusation that Russia hacked into the party's emails. Alperovitch is also a senior fellow at the Atlantic Council, a think tank associated with anti-Russian reports and partially funded by the US military, NATO, and defense contractors like Lockheed Martin and Boeing.
Think your friends would be interested? Share this story!
You can share this story on social media: