Sessions questioned by Mueller in Russia investigation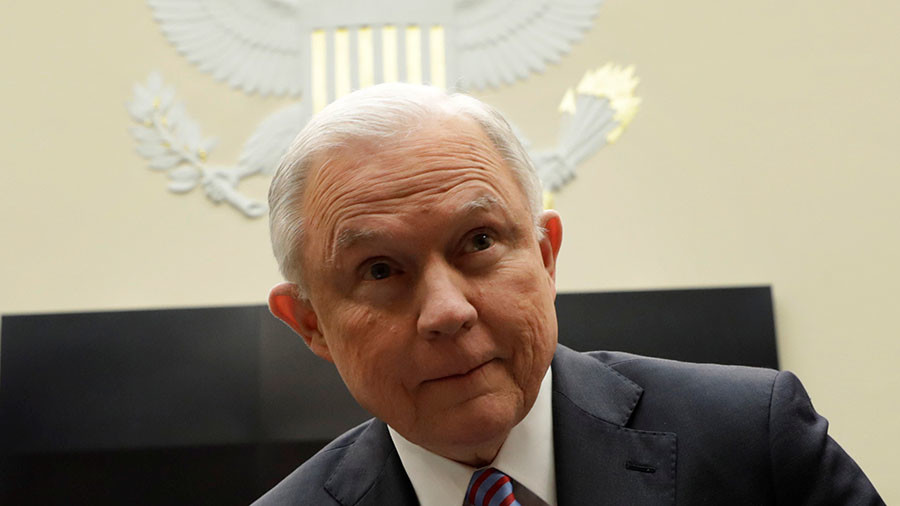 Attorney General Jeff Sessions is the highest official from the administration to have been interviewed as part of an investigation into allegations of Russian collusion with Donald Trump's 2016 campaign, it has emerged.
Justice Department spokesman Ian Prior confirmed on Tuesday that Sessions was questioned last week as part of the investigation by special counsel Robert Mueller, according to AP. He did not provide any further details.
The interview marked the first time Mueller's office had questioned a member of President Donald Trump's cabinet.
NEW: Sessions is 15th current or former Trump administration official known to be interviewed in Mueller/Comey probe, per CNN count. SessionsFlynnRosensteinCoatsRogersMcGahnKelloggPriebusSpicerClovisMillerKushnerMcFarlandHicksAnn Donaldsonhttps://t.co/a3nmE028Mh

— Marshall Cohen (@MarshallCohen) January 23, 2018
Sessions was accompanied by Washington lawyer Chuck Cooper to the interview, according to the New York Times.
There are no details on what Mueller asked Sessions.
President Donald Trump said Tuesday he was not worried about Sessions being questioned by Mueller's team.
"I'm not at all concerned," he told reporters.
The attorney general announced in March he had recused himself from all matters related to the 2016 election, including the Russian inquiry. The disclosure came after it was revealed that Sessions had not told Congress during his confirmation hearing that he had met twice with the Russian ambassador to the US at the time, Sergey Kislyak, during the campaign.
The Office of the Director of National Intelligence (ODNI) released a report on January 6 last year titles 'Assessing Russian Activities and Intentions in Recent US Elections', which concluded Russia interfered in the 2016 campaign using hacking and propaganda to attempt to tilt the race in favor of Trump.
The report did not provide any hard evidence of Russian interference, relying instead on analyses from the CIA, FBI and NSA that drew on intelligence collected by the three agencies. The CIA and FBI have "high confidence" in the results of the report, while the NSA only has "moderate confidence." Russian has denied such allegations.
For Mueller, Sessions is possibly a key witness of two major allegations that he is likely investigating: if there are any Trump campaign ties to Russia, and whether the president tried to obstruct the Russia investigation by firing former FBI Director James Comey.
Trump dismissed Comey last May after both Sessions and his deputy, Rod Rosenstein, penned a memo recommending his ouster over his prior handling of the investigation into former Secretary of State Hillary Clinton's use of a private email server. Clinton was the Democratic presidential candidate who lost to Trump in 2016.
You can share this story on social media: