Whose fault? Tesla crashes into fire truck, driver blames autopilot (PHOTOS)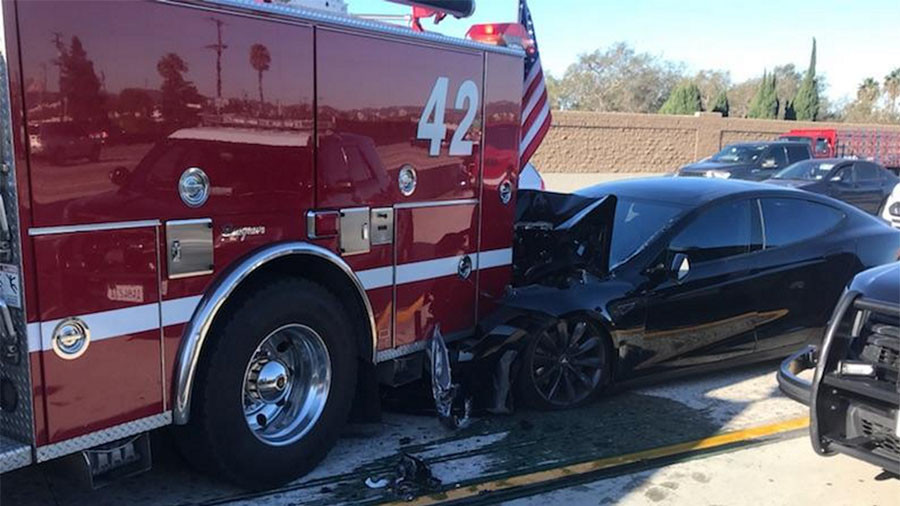 A Tesla Model S has rear-ended a fire truck parked on a freeway in the US. The driver, however, says it wasn't his fault, blaming the state-of-the-art technology instead.
On Monday morning, the Tesla car, going 65mph, hit a parked fire truck, the Culver City Fire Department tweeted. The firefighters were there attending to a "freeway accident," when their truck was hit by the electric-powered vehicle, which was travelling on autopilot, according to the driver. The truck apparently sustained only minor damage, while the hood of the Tesla seems almost completely smashed.
According to Tesla, the Model S' "autopilot capabilities [are] designed to make your highway driving not only safer, but stress free." However, the feature is "intended for use only with a fully attentive driver," according to company officials cited by media.
Another accident in which a Tesla driver blamed the autopilot system took place in San Francisco just last week.
The man's blood alcohol level was two times over the legal limit, the California Highway Patrol said. However, he insisted that he was not to blame and that his car was "on autopilot."
Police arrested the driver, who was later "charged with suspicion of DUI [Driving under the influence]."
The car was then taken to the tow yard. Police joked in a tweet that "it didn't drive itself" there.
When u pass out behind the wheel on the Bay Bridge with more than 2x legal alcohol BAC limit and are found by a CHP Motor. Driver explained Tesla had been set on autopilot. He was arrested and charged with suspicion of DUI. Car towed (no it didn't drive itself to the tow yard). pic.twitter.com/4NSRlOBRBL

— CHP San Francisco (@CHPSanFrancisco) January 19, 2018
If you like this story, share it with a friend!
You can share this story on social media: