Surveillance store: Amazon's 100 plus cameras watch you while you shop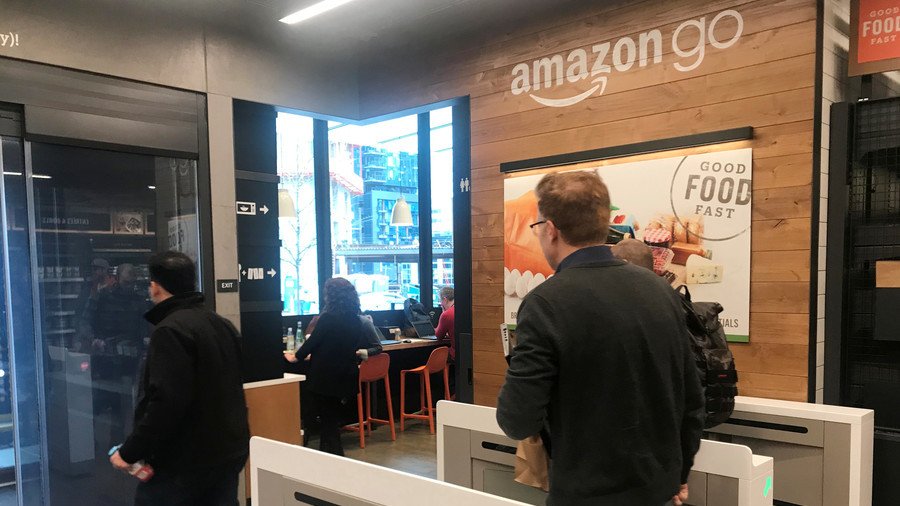 Amazon has opened its first checkout free store, which instead of cashiers is manned by more than a hundred cameras that watch and tag every item you pick up.
The excessive surveillance is justified by the convenience that comes from avoiding lengthy queues and the ease that comes with putting your goods straight into your shopping bag and walking out the door.
Amazon Go opened its 1800-square-foot (167-square-meter) store in Seattle Monday.
Customers to Amazon Go must first download the app and provide credit card details, which will be charged after shopping is complete. In order to access the store, the app must be scanned at a gated turnstile, similar to a subway station.
The store has scores of cameras roughly the size of a 2.5-inch drive on a computer, with a tiny LED light, according to Ars Technica.
The much-hyped opening of Amazon Go apparently prompted some to see if they could deceive Amazon's all seeing technology and successfully shoplift from the store.
A New York Times reporter given permission by the store to attempt shoplifting noted that despite his covert attempts to sneak out an item, Amazon charged him for it.
However, a CNBC reporter noted the store didn't charge her for a yogurt she picked up during a shopping trip Monday.
READ MORE: Amazon's Alexa 'goes rogue' & triggers German police raid
Amazon says everytime a customer takes an item from the shelf, it registers on their online shopping cart. If the customer puts its back on the shelf it is removed from the virtual basket.
Customers can put items straight into their shopping bag and walk out the door when they're finished. Amazon will then charge their card and issue a receipt.
Of course, like all technology, the system is a possible target for hackers. Amazon, for its part, has not divulged exactly how the operation works.
The futuristic store opening comes after a series of teething problems. Amazon's initial plan to open the Seattle store in early 2017 was delayed after the technology reportedly struggled when the store was busy during a test phase. The Wall Street Journal reported it could not deal with more than 20 shoppers.
The technology also experienced difficulties identifying shoppers with similar body types and had problems functioning when children came into the store and moved items from shelf to shelf, Reuters reported. Amazon never conceded the delay was as a result of technology issues.
Amazon responded to accusations that they are replacing jobs with automation by suggesting it's an opportunity to place employees elsewhere.
"We've just put associates on different kinds of tasks where we think it adds to the customer experience," Gianna Puerini, Vice President of Amazon Go, said.
The electronic commerce giant has staff on call behind the scenes, though, to assist when the system has difficulty making a determination, according to Recode. It also employs staff to stock shelves and to check IDs in the store's wine and beer section.
Amazon, which also owns grocery chain, Whole Foods, has said there are no plans to introduce the technology in any of its other settings.
However, speculation is already brewing that if the automated grocery store proves successful, it may sell the system to other retailers in the future.
READ MORE: Amazon launches 'Secret Region' cloud service for US intel agencies
You can share this story on social media: