Record breaking drop in trust for US institutions, below China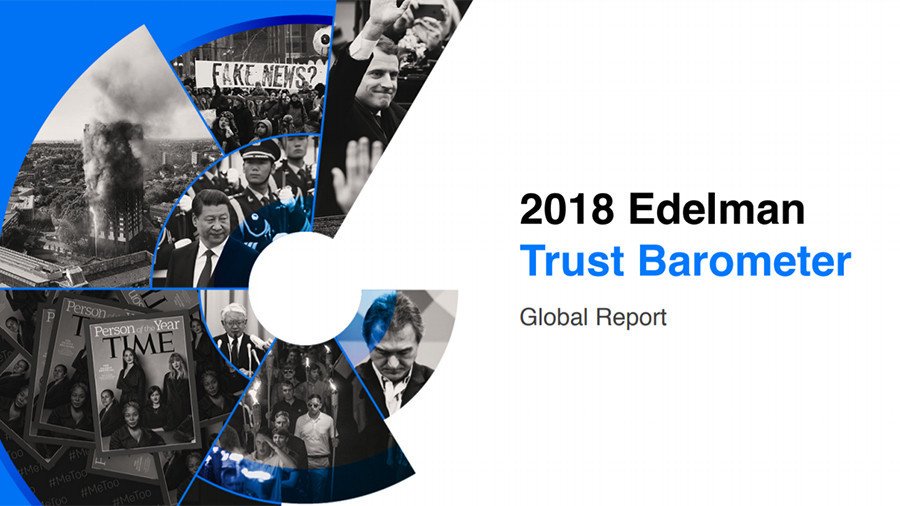 A survey released on the eve of the World Economic Forum in Davos says trust in US institutions plunged during President Donald Trump's first year in office, dropping below China, and for some respondents, Russia.
The annual Edelman Trust Barometer, released before the World Economic Forum convenes in Davos, Switzerland, measures overall trust in four institutions – the government, media, business and non-governmental organizations.
The largest fall was the lack of faith in the US government, which fell 14 points to 33 percent among the general population, and 30 points to 33 percent among the informed public (college educated, household income in the top quartile for their age in their country, read or watch business/news media at least several times a week, follow public policy issues in the news at least several times a week).

The remaining institutions of business, media and NGOs also registered declines of 10 to 20 points.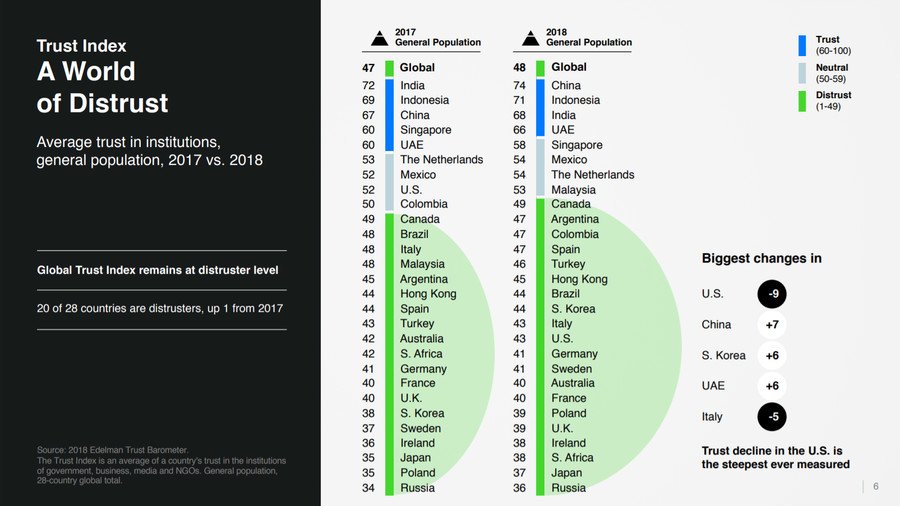 "[I]t is the ultimate irony that it's happening a time of prosperity, with the stock market and employment rate in the US at record highs. The root cause of this fall is the lack of objective facts and rational discourse," said Richard Edelman, head of communications at the marketing firm which commissioned the research, according to a statement. Edelman said for the first time, the "massive drop in trust" wasn't linked to an economic crisis or catastrophe like the Fukushima nuclear disaster.

"In the search for explanation, context helps. For sure, it has been a year of exceptional public opinion volatility," Edelman said.

He explained further,"Record rises in the stock market and the lowest unemployment rates in 10 years have been juxtaposed with stagnant wage growth, and public concerns over jobs, mass shootings, sexual harassment, and police treatment of black youth, not to mention the emerging fears on the global stage over North Korea, job migration and U.S. isolationism."
Overall American trust among the general population fell nine points to 43, placing it in the lower quarter of the 28-country Trust Index. For the general public, it was still higher than Russia and South Africa. Trust among the informed public plunged 23 points to 45, making it the lowest of 28 countries surveyed, below Russia and South Africa.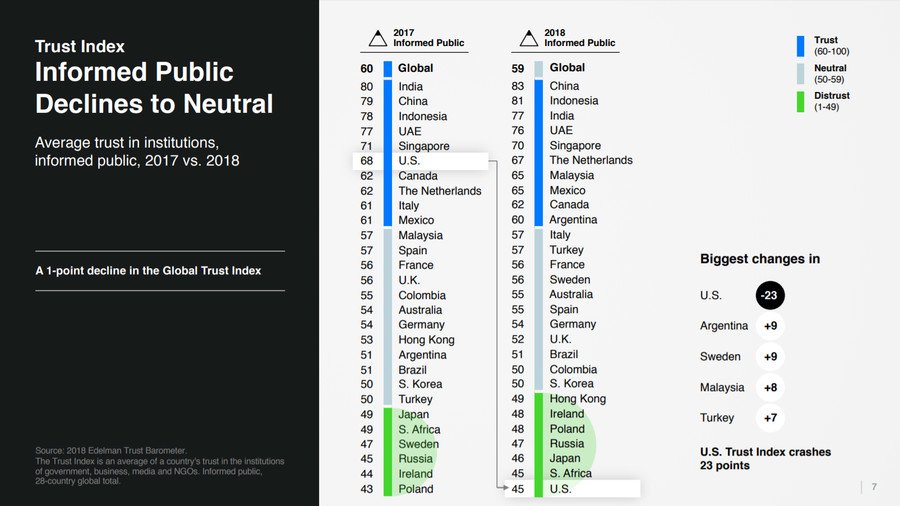 Business was seen as an agent of change, the survey results said. The employer is the new safe house in global governance, with 72 percent of respondents saying they trust their own organization. Sixty-four percent said they believe a company can take actions that both increase profits and improve economic and social conditions in the community in which it operates. The survey found that confidence in CEOs rose sharply by seven points to 44 percent.
China scored high in the areas of confidence in government and state-run media – 74 for the general population and 83 for the informed public. This was matched by an increased trust in business as China's middle class grew, and as mega Chinese Internet companies like Alibaba and Tencent expanded their international footprint.
Joining China at the top of the Trust Index was India, Indonesia, UAE and Singapore.
The survey said 7 in 10 respondents around the world were concerned about fake news or false information being used as a weapon, and 59 percent said it was getting harder to tell if a piece of news was produced by a respected media organization or not.
This year also saw a revival of faith in experts and a decline in confidence among peers.
This is Edelman's 17th annual survey, and is carried out by 25-minute online interviews conducted on October 13 to November 16. More than 33,000 respondents consisting of 1, 150 general population respondents aged 18 and over and 500 informed public respondents in the US and China were polled. Some 200 informed public responders in all other countries across 28 markets were interviewed.
You can share this story on social media: