2017 was a hot one for Earth - NASA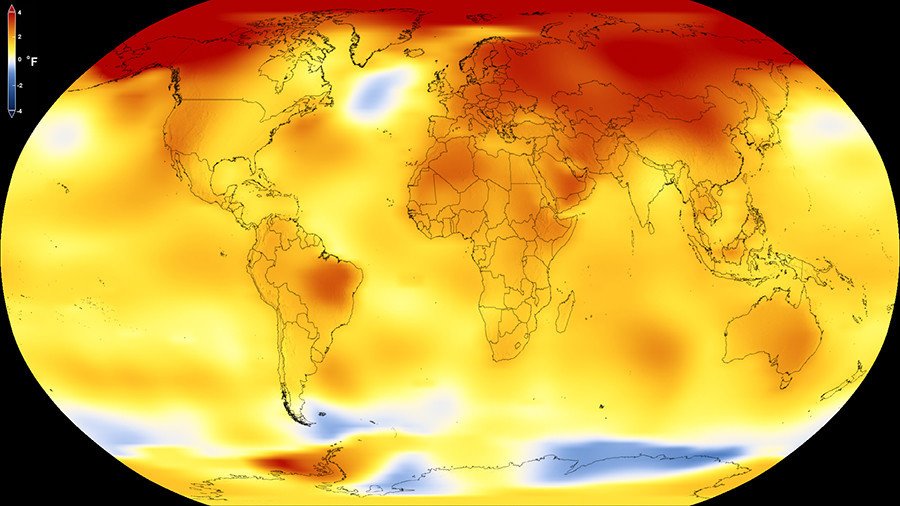 Earth's long-term warming trend continued in 2017, with the average surface temperature only slightly below the record heat of the two previous years, according to US government scientists.
The planet went through one of its warmest years on record in 2017, according to analyses from NASA and the National Oceanic and Atmospheric Administration (NOAA) on Thursday.
NASA said 2017 was the second-warmest year on record in its report. The NOAA report, using different methods, said 2017 was the third-warmest.
"Both analyses show that the five warmest years on record have all taken place since 2010," NASA said in a press release.
El Niño, an annual ocean current that runs through the central Pacific that can cause temperature shifts in atmospheric circulation, was not behind the warm temperature in 2017, scientists said.
The trend is seen most dramatically in the Arctic, NASA said, as sea ice continues to melt. In order to avoid the worst consequences of climate change, scientists say global temperatures must not increase more than 2 degrees Celsius.
"Individual ranking of years is not necessarily the most important thing," Gavin A Schmidt, director of the Goddard Institute for Space Studies, the NASA group that conducted the analysis, told the New York Times. "What we're seeing is an increasing string of years of temperatures more than 1 degree above the pre-industrial era. And we're not going to go back."
NASA release said the planet's average surface temperature rising to about 2 degree Fahrenheit (a little more than 1 degree Celsius) during the last century or so to "a change driven largely by increase carbon dioxide and other human-made emissions into the atmosphere."
Regional weather patterns mean that different locations experience different amounts of warming. In the United States, @NOAA found 2017 was the third warmest year on record. pic.twitter.com/KvwmA4WmfF

— NASA GISS (@NASAGISS) January 18, 2018
The global average temperature in 2017 was 58.51 degrees Fahrenheit (14.7 degrees Celsius), which is 1.51 degrees (0.84 Celsius) above the 20th Century average and just behind 2016 and 2015, NOAA said. Other agencies' figure were close but not quite the same.
"Despite colder than average temperatures in any one part of the world, temperatures over the planet as a whole continue the rapid warming trend we've seen over the last 40 years," said NASA's Schmidt.
NOAA and NASA analyses use temperature measurements from weather stations on land and at sea.
2016 was the planet's warmest year since record-keeping began in 1880, and climate scientists attributed that in part to a strong El Niño Southern Oscillation climate pattern.
The warming trend continued as President Donald Trump announced that the United States would withdraw from the 2015 Paris Climate Accord and repeal the Clean Power Plan, an Obama-era measure designed to reduce emissions from power generation.
You can share this story on social media: