16yo defendant killed by deputy in Ohio courtroom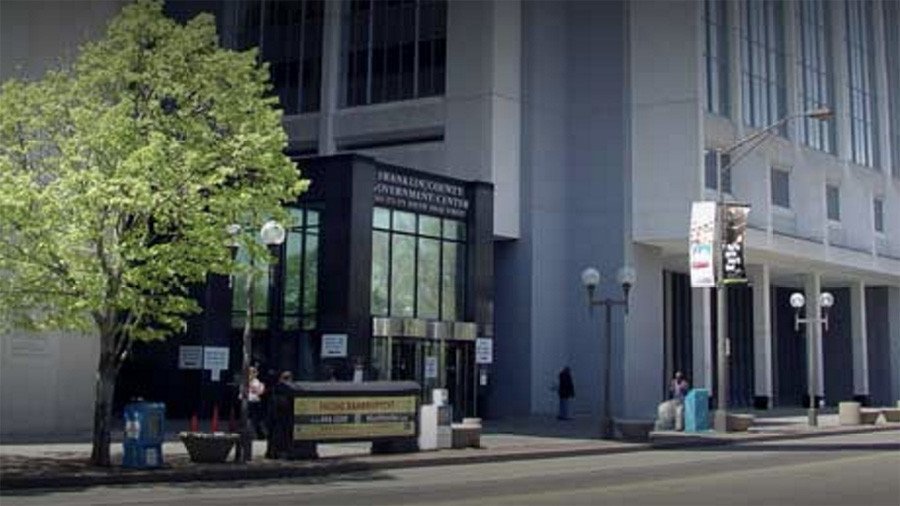 A teenager has been shot dead following a disturbance during proceedings at a juvenile court in Columbus, Ohio.
Joseph Haynes, who was in court charged with menacing with a firearm, was having his case heard at around 12.40pm local time Wednesday when a fight broke out involving a deputy from Franklin County Sheriff's Office, the 16 year old and his family members. An unidentified deputy then fired one shot, striking Haynes.
READ MORE: Cities sue Pentagon over failure to report crimes to FBI gun database, citing Texas church shooting
"At some point, as the hearing was concluding, there was an altercation involving the deputy and some of the family members," Franklin County Chief Deputy Rick Minerd told the Columbus Dispatch. "And what we have learned was the deputy was knocked to the ground as part of that altercation where he came under attack. One shot was fired."
Haynes was reportedly hit in the abdomen before being taken to Grant Medical Center where he was pronounced dead around 1.15pm local time. The deputy was taken to nearby Riverside Hospital where he was treated for non-life-threatening injuries.
Speaking to ABC, Haynes's grandmother, Geraldine, said that the fight broke out when the teen's mother was ordered out of the courtroom and the deputy didn't give her enough time to gather her things. The teen then intervened.
Geraldine Haynes also said that her grandson had his hands up at the time of the shooting. "Joey went over, grabbed him by his shoulders," she said. "The guy slung around and slung Joey to the ground. He got on top of Joey, who had his hands up in the air. The cop had his hands by his side and the gun went off. He pulled the trigger on my grandson."
READ MORE: Accused cop-killer tells court he wishes he had 'killed more'
However, in a statement to the Columbus Dispatch, Keith Ferrell, executive vice president of the Fraternal Order of Police Capital City Lodge No. 9, which represents Franklin County deputies, said that Haynes was reaching for the deputy's service weapon. "We're responsive to people's actions. We don't choose to come to work and shoot people," Ferrell said. "It gives our people very little choice to protect themselves and the public. Unfortunately, he had to stop the threat. It was a significant struggle. And his injuries support that."
Think your friends would be interested? Share this story!
You can share this story on social media: