Accused cop-killer tells court he wishes he had 'killed more'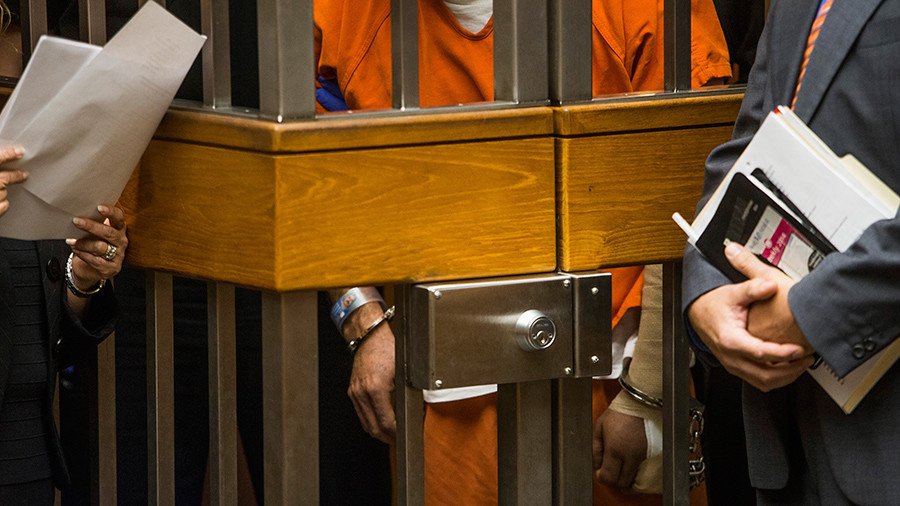 A suspect in the killing of two North California sheriff's deputies told a court that he wished he had killed more police officers. Facing the death penalty, it's not the first time the illegal immigrant has acted out.
In his opening statement in Sacramento Superior Court Tuesday, prosecutor Rod Norgaard described how Deputy Scott Brown retreated under heavy fire that killed Deputy Danny Oliver, according to the Sacramento Bee.
The suspect, Luis Enrique Monroy Bracamontes, who immigrated to the US illegally, appeared in court heavily shackled. He grinned and called Brown a "coward" before he was admonished by Superior Court Judge Steve White.
"I wish I had killed more of the mother-------," Bracamontes later told jurors, adding that "I will break out soon and I will kill more, kill whoever gets in front of me… There's no need for a f------ trial."
Judge White briefly dismissed the jury as defense attorneys said Bracamontes' outbursts were added signs that their client is unfit to stand trial.
"We believe Mr. Bracamontes' outbursts, his laughter, are a function of his mental illness...," Bracamontes' public defender Jeffrey Barbour said.
A day-long rampage in October 2014, left two Sacramento sheriff deputies dead. The two suspects in the case are Bracamontes, 37, a Mexican native who was deported on numerous occasions before slipping back into the US, and his American wife, Janelle Monroy 41, who faces life without parole.
The violence began in the parking lot of a Motel 6 when Bracamontes allegedly shot Oliver in the head as the deputy approached him and asked for ID. The suspect fired a hail of bullets as he fled, carjacking several vehicles along the way before confronting deputy Davis and shooting him and injuring another deputy.
The case has dragged on as Bracamontes has raged about the delays, asked to be executed, and repeatedly confessed to killing the deputies.
"He shot them both," Barbour told the court Tuesday, according to the Sacramento Bee.
Barbour urged jurors to listen to the evidence so they can consider it during the penalty phase if his client is convicted.
Bracamontes is alleged to have been high on methamphetamine that lawyers will argue made him paranoid and agitated, and that he tried to kill himself and responding officers by turning on the gas in a house where he was hiding before surrendering, his lawyer said.
Barbour said Bracamontes wrote a suicide note before surrendering.
"Forgive me, God," the note read. "Please take me with you. I love you, Janelle."
His wife is also charged in the twin slayings.
Separate juries are hearing the cases against the couple. Only jurors considering Bracamontes' case were in court at the time of his profanity-laced outburst.
His wife claims she was a victim of her abusive and paranoid husband who frequently used methamphetamine, marijuana and alcohol during a meandering journey across several western states from their home in Utah.
Bracamontes' lawyer has argued that anti-immigrant sentiment spurred by President Donald Trump, means it's unlikely that his client will get a fair trial. They have tried, without success, to enter a plea of not guilty by reason of insanity.
You can share this story on social media: