Bannon in spotlight on Russia probe, but much remains secret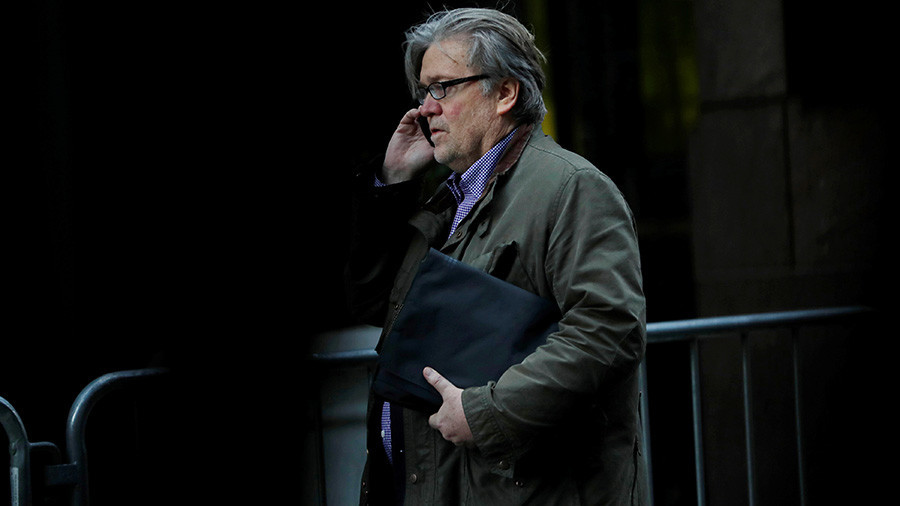 Former White House strategist Steve Bannon is being questioned as part of the investigation into alleged Russian interference in the 2016 US presidential election, but few details of his testimony have been made public.
Bannon reportedly struck a deal to testify before the staff of special counsel Robert Mueller, after the House Intelligence Committee slapped him with a subpoena over his refusal to answer a number of questions, claiming executive privilege.
This is the second subpoena issued to Bannon following a reported summons from a Mueller-impaneled grand jury.
Bannon appeared before the House committee Tuesday, where he was questioned for 10 hours on a range of issues concerning Donald Trump's campaign, transition team and White House operations, according to AP. The session turned contentious, as Bannon repeatedly said he could not answer questions, citing executive privilege.
Representative Mike Conaway (R-Texas) told WNBC the committee's subpoena remains in effect and described the interview as in "recess."
After Bannon's interview, Democrats on the committee accused the White House of exerting influence over Bannon to keep him from talking about his time in the West Wing, according to the New York Times.
The White House is "going to be fully cooperative" with Mueller and "encourage everybody involved in the process to be fully cooperative," press secretary Sarah Huckabee Sanders told reporters Wednesday.
"I think we've been dealing with this hoax for the better part of a year. If we have to endure the ridiculousness for another month, we can certainly handle it. Do the American people deserve that? No, I don't think they do," she said.
JUST IN: White House responds to reports that Bannon's lawyer relayed questions from Intel. committee to White House in real time. White House "was following standard procedure for an instance like this." pic.twitter.com/fCcEiO2Rv4

— MSNBC (@MSNBC) January 17, 2018
Reporters brought up the fact that Bannon's attorney was relaying the questions posed by the committee to the White House in real time.
"That is the same process that is typically followed," Sanders replied. "Sometimes they have a White House attorney present in the room. This time it was relayed via phone and was following standard procedure for an instance like this."
BREAKING: AP Sources: Steve Bannon attorney relayed questions to White House during House interview, was told when not to respond.

— The Associated Press (@AP) January 17, 2018
The subpoena issued to Bannon last week was the first time Mueller has used a grand jury subpoena to seek information from a member of Trump's "inner circle," as first reported by the New York Times.
FBI agents that showed up at Bannon's home last week were unaware that Bannon had retained Washington lawyer William Burck just hours earlier. The attorney is also representing two other witness in the probe led by Mueller, according to WNBC News.
Burck is also appearing for White House Counsel Don McGahn and Trump's former chief of staff, Reince Preibus. Both met with Mueller last year.
The Times has speculated that the subpoena could be a negotiating tactic, with Bannon likely to forgo the grand jury appearance if he agrees to be questioned by investigators in a less formal setting. Bannon left his position as chief strategist at the White House last August.
The House committee summons came after Bannon was quoted in a new book, 'Fire and Fury: Inside the Trump White House,' in which he called Donald Trump Jr's meeting with a Russian lawyer at Trump Tower in June 2016 "treasonous." Bannon also allegedly said there was "zero" change that Trump Junior did not walk the Russians to meet his father.
Since the book was published, Bannon clarified those comments and said they were directed to then-campaign manager Paul Manafort, not Trump Jr.
On Wednesday, the House committee interviewed Trump's former campaign manager Corey Lewandowski and senior White House aide Rick Dearborn behind closed doors.
You can share this story on social media: