Hong Kong-bound flight witnessed N. Korean missile – Tillerson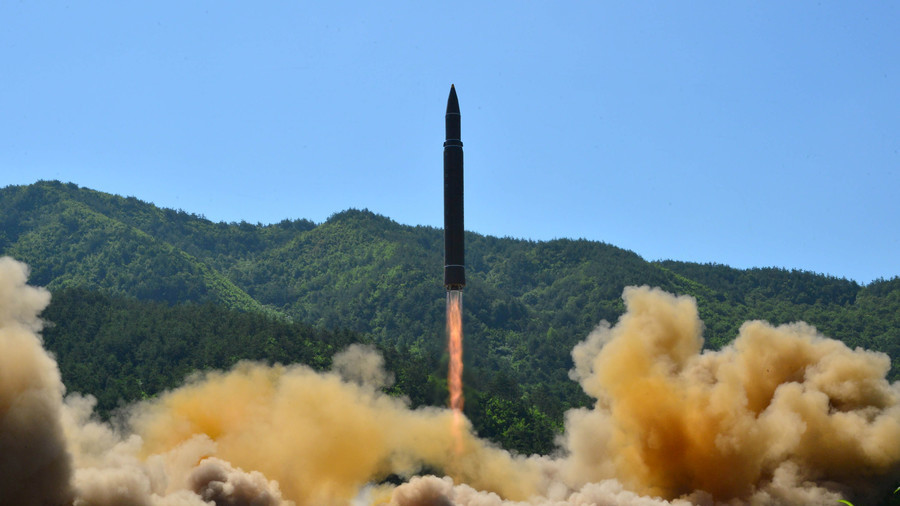 A passenger plane flying over the Pacific in November actually witnessed part of a North Korean intercontinental ballistic missile (ICBM) in action, according to US Secretary of State Rex Tillerson.
Tillerson mentioned the incident while stressing the importance of fully enforcing sanctions against North Korea at a meeting of the Vancouver group Tuesday. Discussing the threat posed by North Korean ballistic missile tests to civilian aircraft in the Sea of Japan, he warned that such tests could potentially strike civilian aircraft in what would be a calamitous escalation for the world.
"My point is this: North Korea's willingness to launch missiles at any time presents a threat to people of all nationalities in the region's airspace each day," Tillerson said Tuesday. North Korea conducted 15 ballistic missile tests and one nuclear test in 2017 but has yet to conduct any test in 2018, despite false alarms raised in both Japan and Hawaii in recent days.
The secretary of state made specific reference to a flight from San Francisco to Hong Kong on November 28, 2017. The passengers on board reportedly witnessed the incident approximately 280 nautical miles from where the missile ultimately crashed in the Sea of Japan. Tillerson did not comment on whether the incident forced a course correction.
Tillerson did not mention which airline's plane was involved in the November incident, though crews on flights operated by both Korean Air Lines and Cathay Pacific Airways claimed to have seen what they believed to be a test missile on reentry, though neither company has plans to alter their flight plans yet. Cathay Pacific's Flight 893 reported the sighting to Japanese air traffic control at the time, reports Bloomberg.
That launch flew for 53 minutes, reaching a peak lofted trajectory of approximately 4,000km, (2,500 miles) before crashing into the Sea of Japan, 250km off Japan's northwest coast, government officials said at the time.
"Based on its past recklessness, we cannot expect North Korea to have any regard for what might get in the way of one of its missiles, or parts of a missile breaking apart. This is to say nothing of potential technological errors associated with a launch that could result in disaster," Tillerson said. "Of course this is hardly the only threat, or the likeliest threat, posed by North Korean missiles."
"Over the course of that day, according to the Department of Defense, an estimated 716 flights were due to pass within that same range," Tillerson said. "The FAA says the total available seats on those 716 flights was 152,110. That's a lot of people from a lot of countries being put at risk by irresponsible testing of ballistic missiles."
You can share this story on social media: