Trump says 'I would,' WSJ says 'I do,' in battle over N. Korea quote (POLL)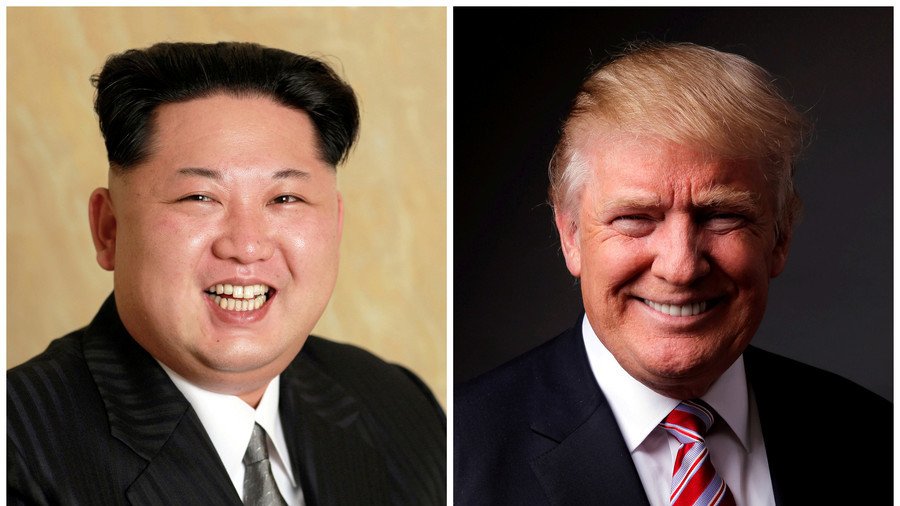 Donald Trump is calling out the Wall Street Journal for misquoting him on his relationship with North Korea, with the US President insisting that he really said, 'I'd probably have a good relationship with Kim Jong Un.'
In tweets, Trump accused the outlet of creating 'Fake News' over his interview, adding that he believed the WSJ knew what he meant and intentionally misquoted him.
The Wall Street Journal stated falsely that I said to them "I have a good relationship with Kim Jong Un" (of N. Korea). Obviously I didn't say that. I said "I'd have a good relationship with Kim Jong Un," a big difference. Fortunately we now record conversations with reporters...

— Donald J. Trump (@realDonaldTrump) January 14, 2018
...and they knew exactly what I said and meant. They just wanted a story. FAKE NEWS!

— Donald J. Trump (@realDonaldTrump) January 14, 2018
The WSJ released the transcript of the interview along with the disputed audio, in a bid to clarify the matter. However, its release has only sparked more debate as the Twitterati argue over the quote, with no major consensus being reached.
If he didn't say it, why did WSJ reporters IMMEDIATELY follow up by asking if he had a relationship with KJU? And why did Trump equivocate? I mean, come on. https://t.co/MUmSy5rlQn

— Chris Cillizza (@CillizzaCNN) January 14, 2018
It sounds like he said "I'd" in the sentence about Kim Jong Un. Immediately after that sentence, he quickly says "I would..." But then he doesn't say what he would do; he just starts a new sentence.WSJ should play the full interview.

— Sarah Kendzior (@sarahkendzior) January 14, 2018
Okay this is debatable. His inflection does change and it's hard to tell between "I" or "I'd" - I'll give trump the benefit of the doubt on his words here but I don't think WSJ had a bad intent here. It sounds like a mistake. https://t.co/UqrThOTD9c

— Jenn Mari (@JennBunny28) January 14, 2018
WSJ's transcript cites Trump as saying: "With that being said, President Xi has been extremely generous with what he's said, I like him a lot. I have a great relationship with him, as you know I have a great relationship with Prime Minister Abe of Japan and I probably have a very good relationship with Kim Jong Un of North Korea. I have relationships with people, I think you people are surprised."
In the audio released by the WSJ, however, you can hear Trump begin an unfinished sentence after his comment about Kim Jong Un which is not included in the transcript. This sentence sounds like Trump was about to say, "I would," but he doesn't complete the word and instead moves on to the next sentence.
In the transcript released by WSJ, the reporter's next question attempts to clarify Trump's statement. "Just to be clear, you haven't spoken to the North Korean leader, I mean when you say a relationship with Korea," the reporter asks.
"I don't want to comment, I'm not saying I have or I haven't. But I just don't…," Trump responds.
Trump is known for his antagonistic relationship with Kim, regularly trading taunts with the NK leader he calls "lil Rocket man," and most recently warning that he too has a "nuclear button." However, last week the US president expressed willingness to talk on the phone to the North Korean leader under certain (unnamed) conditions.
READ MORE: 'Mine is bigger': Trump dares Kim Jong-un to compare nuclear buttons
Press Secretary Sarah Sanders condemned The Wall Street Journal report as 'fake news' and released the White House's own audio from the interview, which cuts off just before Trump seems to start saying, "I would."
Meanwhile, The Wall Street Journal says it's standing by its account of the interview.
As the question of whether or not Trump used the contraction or just the pronoun remains a bone of much contention online, RT.com is asks: what do you hear in the audio?
You can share this story on social media: