US Navy brings negligent homicide charges against Fitzgerald, McCain ex-commanders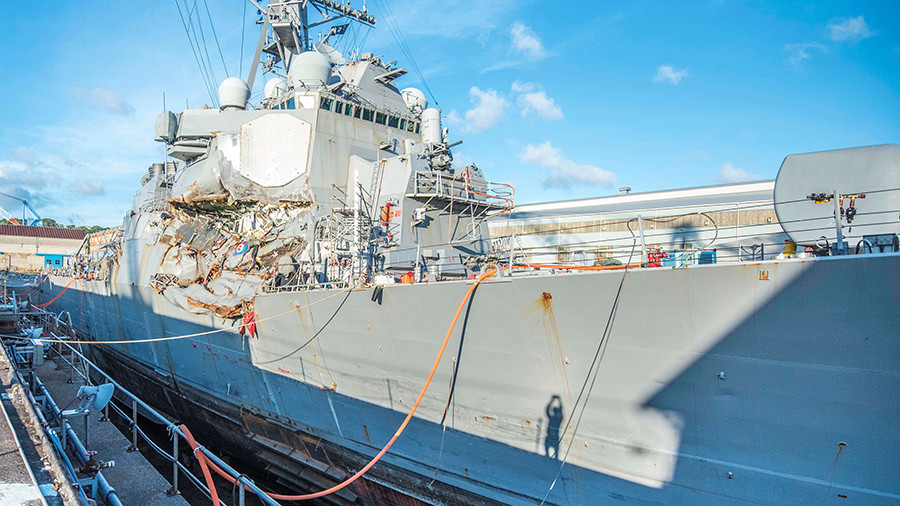 Both former commanding officers of the USS Fitzgerald and USS John S. McCain are facing negligent homicide and other criminal charges over the fatal collisions last year that killed a total of 17 service members.
Admiral Frank Caldwell decided to file charges Tuesday against Bryce Benson, former commander of the USS Fitzgerald, and Alfredo Sanchez, former commander of the USS John S. McCain, according to a statement released by the Navy Office of Information.
Three other crew members of the USS Fitzgerald, including two lieutenants, and one lieutenant junior grade are also being charged. A chief petty officer of the USS John S. McCain is also facing a dereliction of duty charge.
Commander William Speaks, a Navy spokesman, said the Navy did not disclose the names of the other service members because their cases were still "very early in the process."
"Everyone apart from someone in the command triad has an expectation of privacy," Speaks told Military Times.
All of the service members are facing charges that include dereliction of duty, hazarding a vessel, and negligent homicide.
In addition, crew members from each destroyer will face additional administrative actions and four crew members from each vessel will face "non-judicial punishment."
The charges will be presented at an Article 32 hearing where evidence will be reviewed to determine whether the officers should be court-martialed.
Caldwell, head of the Navy's nuclear reactors program, was authorized in late October to review the collisions and take administrative or disciplinary actions.
On June 17, seven soldiers were killed as the USS Fitzgerald collided with a Philippine container ship in the middle of the night, southwest of Yokosuka, Japan. The ship sprung a leak and seven sailors drowned. Three of the commanding officers on the ship were later relieved of their duties.
On August 21, the USS John S. McCain crashed into a commercial vessel in the Strait of Malacca off the coast of Singapore. Ten sailors drowned as seawater flooded sealed compartments of the ship. Another five sustained serious injuries.
In November, the Navy announced reforms to improve sailors' skills at sea after reviews showed crew members in the Pacific were undertrained and overworked.
Benson and Sanchez were both relieved of their command after the collisions. The Navy did not specify when their hearings will begin.
You can share this story on social media: