'S***hole' projected in huge letters onto Trump hotel (VIDEOS, PHOTOS)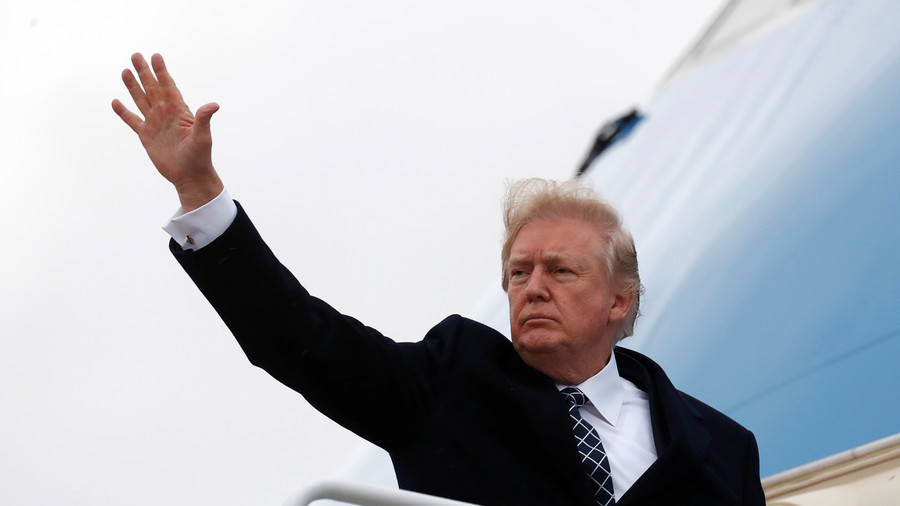 The dust has yet to settle from Donald Trump's alleged 's***hole' gaffe which swept the headlines across the world this week, but one prankster took it upon himself to emblazon the offending phrase directly onto a Trump hotel.
Guests and passersby alike were stunned to see the word 's***hole' projected in huge letters onto the Trump International Hotel in Washington DC Saturday night.
"Not a DC resident? Need a place to stay? Try our s***hole? This place is a s***hole," the projection read, before a torrent of poop emojis appear to explode out of the main entrance.
The prankster in question is Robin Bell, the founder of video projection company Bell Visuals, who has made a habit of voicing his dislike of both President Trump and his policy decisions.
"The president distracts us from politics that are harming us," Bell added in his expletive-laden protest projection. The hit-and-run hilarity lasted approximately 40 minutes before Bell left the area, The Washington Post reports.
Bell has targeted Trump's DC hotel before with similar messages, including "Pay Trump bribes here" with an animated arrow pointing to the lobby. He has also taken projected pot shots at Trump's attorney general, Jeff Sessions, with the line, "I thought the KKK was OK until I learned that they smoked pot," projected onto the Department of Justice.
The latest projection stunt relates to Trump's alleged comments regarding Haiti, El Salvador, and several African nations when speaking with lawmakers about immigration reform last week. "Why are we having all these people from shithole countries come here?" he reportedly said. The remarks received widespread condemnation.
"There is no other word one can use but 'racist,'" UN human rights spokesman Rupert Colville said of the reported remarks, according to Reuters. "You cannot dismiss entire countries and continents as 's***holes' whose entire populations, who are not white, are therefore not welcome."
You can share this story on social media: