'Whole state was terrified': Hawaii urges 'tough & quick' reprisal for bogus missile alert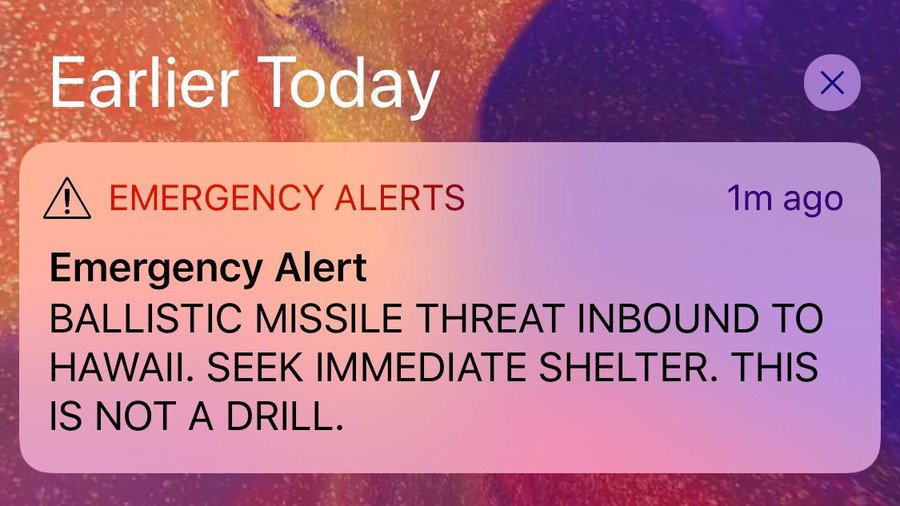 After the entire state of Hawaii suffered an almighty scare over an imminent missile attack warning, angry officials and the public are calling for "tough and quick accountability" for the "totally inexcusable" mishap.
"The whole state was terrified," said Hawaiian US senator Brian Schatz following the false alarm on Saturday morning, which went uncorrected for 38 minutes. He called for immediate action.
The alert was mistakenly sent out during an employee shift change at the Hawaii Emergency Management Agency when someone literally "pushed the wrong button," according to Hawaii Governor David Ige.
"We took shelter immediately ... I was sitting in the bathtub with my children saying our prayers ... I'm extremely angry right now," said Hawaii State Rep Matt LoPresti, describing for CNN the panic that ensued following the alert.
READ MORE: 'This is not a drill': Hawaii gets ballistic missile alert 'by mistake'
The mistake came at "a time of heightened tensions" between the US and North Korea – a fact not lost on US Senator for Hawaii Mazie Hirono, journalist Glenn Greenwald or NYT national security correspondent David Sanger, who all alluded to the danger of the nuclear and digital age colliding.
President Donald Trump, who was at his golf resort in Mar-A-Lago at the time of the alert, and who has remained uncharacteristically silent on Twitter since the debacle, has been criticized for his role in raising tensions.
"Our leaders have failed us," Rep Tulsi Gabbard told CNN. "Donald Trump is taking too long. He's not taking this threat seriously and there's no time to waste. We've got to get rid of this nuclear threat from North Korea … because this is literally life and death for the people of Hawaii and for the people of this country."
Local journalist Anthony Quintano tweeted "I'm still shaking" and shared an image of electronic signs on a highway in Honolulu still displaying corrections for the alert.
FCC Commissioner Brendan Carr said the bureau has launched a full investigation into the false alert.
You can share this story on social media: