'We're very excited': US Navy to test warship laser weapon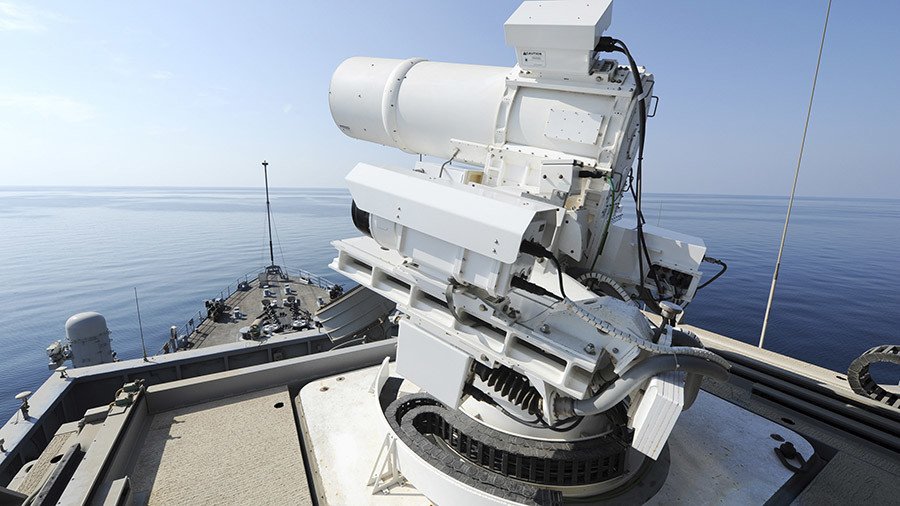 A newly built US amphibious warship will test out new laser weapon technology as early as this coming fall, replacing an earlier tested $40 million laser.
The new USS Portland warship, currently en route to San Diego, California, to be commissioned, has been chosen to host the new laser weapon technology created by the Office of Naval Research.
The laser weapon is considered a next-generation follow-on to the Laser Weapon System (LaWS) that was tested for three years in the Middle East, Program Manager Captain Brian Metcalf said, Defense News reports.
The new laser will be a "bolt-on" to the USS Portland's arsenal on the ship's deck, and will not be integrated into the ship's other systems, Metcalf said, according to the US Naval Institute.
Although the Navy has no concrete plans to mount a new laser onto other assault ships in the amphibious fleet, Metcalf said the USS Portland crew could test and host the new laser indefinitely.
Metcalf commented on the ship and laser at a briefing at the Surface Navy Association annual symposium in Arlington, Virginia.
"My guess is if this works and they like it, it's going to be there for a while. The ship is going to go use the thing, and then we'll start talking about how do we make this part of the ship's total system," Metcalf said, according to Defense News.
"We're very excited about it. It's supposed to install while I still own the ship and am responsible for it, and then we would turn it over to the fleet for capability wherever the commanders decide," Metcalf added.
Metcalf did not give specifications for the new laser, pointing out that his own specialism is ships, not the development of the new weapon. The captain did, however, address the possibility that the laser could be used in future warfare.
READ MORE: Troops, toys & threats: Trump signs $700bn military funding bill
"It's not going to be integrated into the warfare system. It won't be providing tracking data or classification data," Defense News reports.
Metcalf's office is still waiting on drawings from the Office of Naval Research in order to finalize the laser's installation on the ship, the captain said.
No exact date has been given for the laser test.
You can share this story on social media: