'Very brave Syrian reporter' in WaPo tweet unmasked as jihadi propagandist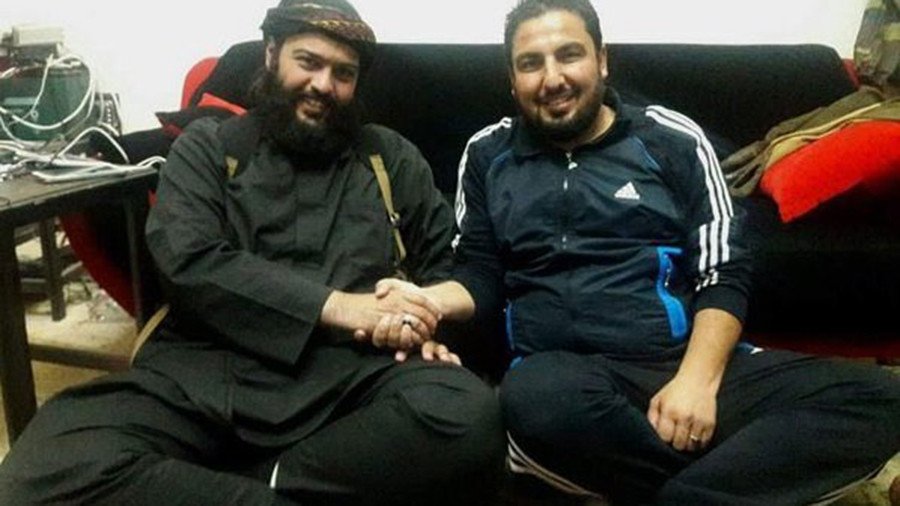 The Washington Post bureau chief in Beirut commended the courage of a battlefield reporter in Syria, despite being informed the man is in fact a radical Islamist. She has refused to take back her words.
On January 11, Liz Sly retweeted a video featuring a man with a microphone cowering in front a camera in the middle of an airstrike, purportedly shot near the northern Syrian city of Idlib, a current focal point of fighting between the opposition and government forces.
"This Syrian journalist, standing in an open field while bombs explode all around him, is very lucky to be alive. No flak jacket or helmet. You can barely hear him above the explosions. He and his colleagues are very brave," wrote Sly, who is responsible for the newspaper's Syria and Iraq coverage.
"This Syrian journalist's name is Tahir al-Umar and he is with Free Syrian TV," she added in a later post.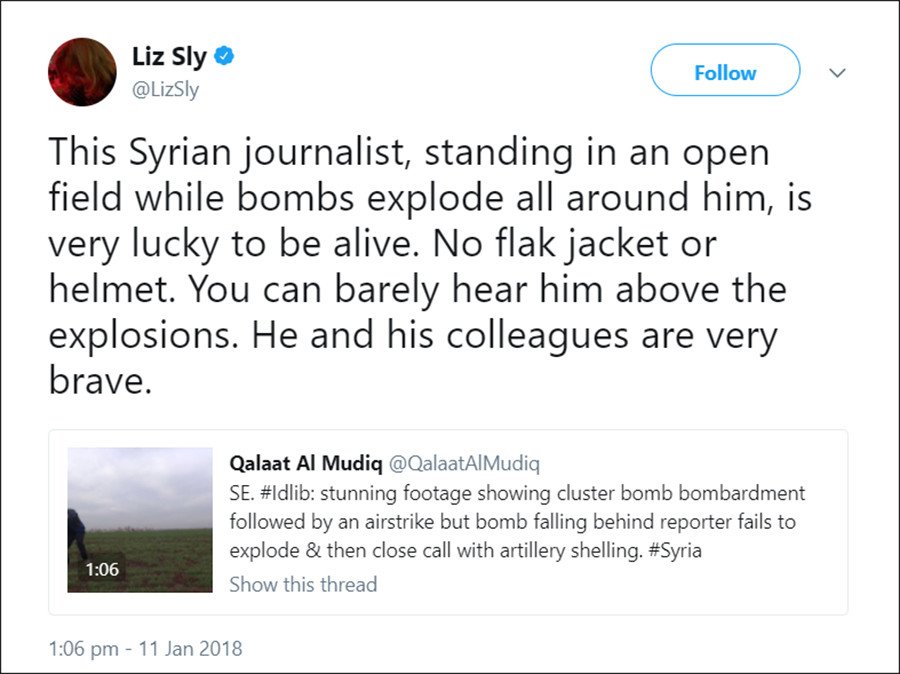 Sly's description was immediately challenged by other commenters, including several journalists, who noted that the protagonist of the footage, also known as Abu Omar, is not the posterboy of journalistic veracity she makes him out to be – but an Islamist cheerleader.
Omar does not conceal his allegiance, with many of the posts on his Twitter account praising the "sacrifices" of the "mujahideen" – the noble jihadists – and gloating over the enemy losses inflicted by Islamic State (IS, formerly ISIS/ISIL) and other radical groups.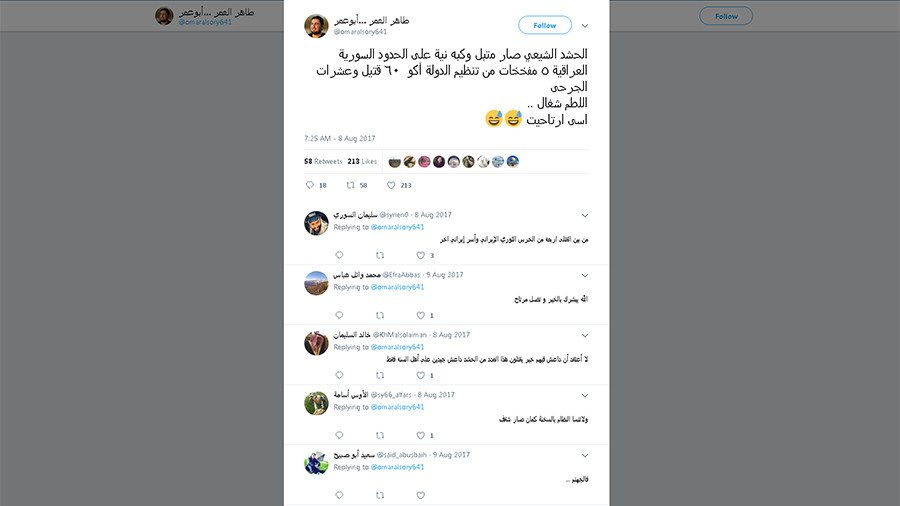 "The Shia militias have been turned into mincemeat on the Syrian-Iraqi border. Five Islamic State bomb trucks exploded, 60 dead and dozens wounded," writes Omar, accompanying the message with two laughing emojis in a typical tweet from August 8, 2017.
"We beg Allah to unite the ranks of the mujahideen and the other fighters!" Omar wrote on August 4 last year.
At least at some point in 2016, Omar was embedded with the Salafist jihadist group Jund Al-Aqsa, part of a wider jihadist alliance led by Saudi cleric Abdullah al-Muhaysini, who is considered a terrorist by the United States. Omar and Al-Muhaysini are pictured embracing warmly as they posed for the cameras in an undated photo, while multiple reports call the movement's fighters "heroes."
The fragmented political landscape in Syria makes it easy to accidentally endorse unsavory characters, even if you are a top foreign correspondent for a renowned media outlet, though one wonders if the Washington Post would have been so careless in advertising the work of a pro-government reporter.
In any case, Sly told RT she has nothing to apologize for, as she was commending the jihadist supporter's "bravery," while the supposed journalist's pro-IS views are irrelevant here.
"I dispute that I gave 'praise' to the journalist or his journalism. I pointed out that standing up in a field and continuing to talk while explosions are going off all around you is brave," Sly told RT.
You can share this story on social media: