Democrat report 'yet another tool to sell Russian collusion delusion'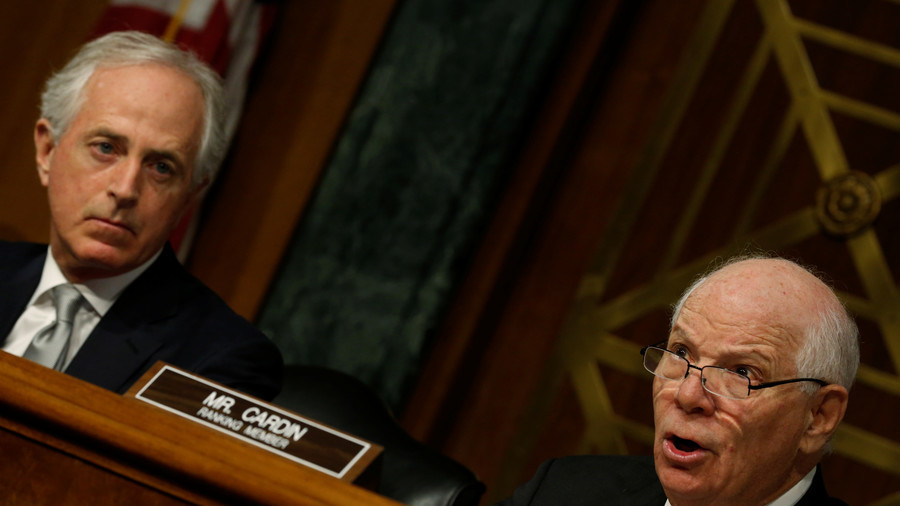 The US Foreign Relations Committee report on alleged Russian meddling doesn't reflect the will of the American people or Congress, and merely tries to peddle an anti-Russian narrative, political analyst Charles Ortel told RT.
Democrats in the US are calling for radical action against alleged Russian interference in the 2016 presidential election. Senators on Wednesday published a 206-page report for the Foreign Relations Committee, with proposals including the creation of a new inter-agency cell, modeled on the National Counter-Terrorism Center (NCTC).
The senators propose spending more than $250 million on building institutions in Europe and Eurasia to counter alleged Russian meddling. The report also suggests preemptive sanctions against so-called "State Hybrid Threat Actors". In addition, it recommends that social media companies be required to track down propaganda and make public all income from political ads.
Political analyst Charles Ortel says the report is just another tool attempting to sell the delusion of Russian collusion with the Trump campaign.
"The Russian government, under Putin's leadership, has shown that it is both capable of and willing to assault democratic and transatlantic institutions and alliances." - Report https://t.co/vkcYvCBXPm

— RT America (@RT_America) January 10, 2018
RT: No Republican senators signed the report, only Democrats. So do you think any of these measures will be implemented?
Charles Ortel: I highly doubt it. The report has got a lot of words in it on over 200 pages. When you look at the composition of the committee, you have a nominal Republican, I would argue, and Senator Bob Corker – President Trump refers to him as "Little Bob" Corker – who has his own problems with allegations of corruption. And that may be one of the reasons that he decided not to stand for reelection. You also have Jeff Flake, Republican on that committee. So I don't think that committee reflects the will of the American people, or even indeed the will of Congress. The Democrats tend to vote as a bloc. And this report, which must have been in preparation for many months, is yet another tool used to continue to sell the anti-Russian narrative and to sell the Russian collusion delusion.
RT: The report calls for an international coalition to counter the Kremlin's "malign influence operations." Do you think America would find any allies for such a coalition?
CO: Sadly reports like this get written… I read the early recounting of history in this report. And it is really shameful – it is fake accounting of history, it is not objective, it doesn't really have a proper context. I think serious objective people, when they look at this, and they try to weigh up the various ways in which we could spend money – this won't be one where we put a lot it behind it. And while $250 million is a lot of money, in the scheme of our spending $6 trillion a year on government all told, it is really not that much. So I doubt that this will become an urgent priority for the American government.
A new poll reveals 48 percent of American voters believe it's "very or somewhat likely" President Donald Trump will be cleared in the investigation into alleged collusion with Russia during the 2016 presidential campaign. https://t.co/I6bOcU1ijI

— RT America (@RT_America) January 11, 2018
RT: The senators say the US government should increase spending in Europe and Eurasia to, as you've just mentioned, $250 million over the next two years to counter what they think is Russian interference. Do you think US taxpayers would be happy funding that?
CO: I don't. We're in a zone now in the US where Trump is succeeding in disrupting the status quo consisting of the 'Never Trump' person, anti-Trump Democrats, who are on that Senate Foreign Relations Committee. A lot is going to happen in 2018. I would not bet against this president and his team. He is getting this economy in America moving. That is going to have a positive impact on the global economy. I think he is going to go from strength to strength… The Republicans will do much better in 2018 – it is my prediction. And when a new Senate is seated, perhaps with the stronger Republican Trump-led majority – you're going to see very different reports coming out of that committee.
RT: For now, the Republicans have a slim majority in the Senate. If the Democrats gain control after this year's mid-term elections, could we see an even more hostile stance on Russia?
CO: You might. But I think that is a very large 'if.' I think Americans vote with their pocketbook. We've been stuck down under less than 8 percent per year GDP growth for eight years. Incomes are now finally coming back; the economy is coming back; taxes are going down. I think you're going to see a lot of good, strong moves from now through November 2018. And we're going to vote with our pocketbook, and vote for success rather than schemes and slogans, and hackneyed reports.
You can share this story on social media: