Investors ask Apple to fight childhood 'addiction' to smartphones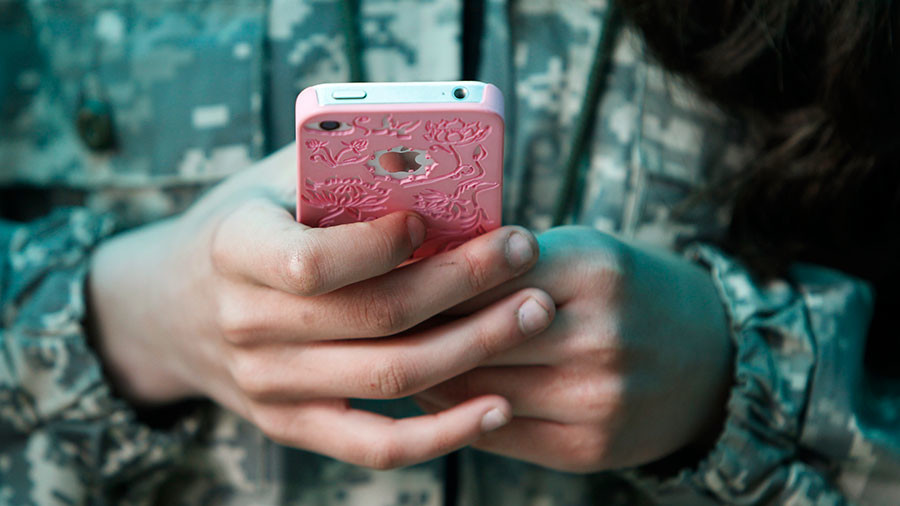 Two major Apple investors want the company to do more to curb what they say is a growing addiction to smartphones and other technology by implementing software changes that would make them age-specific.
In an open letter Saturday, they asked the company to give parents "more choices and tools to help them ensure that young consumers are using your products in an optimal manner."
JANA Partners LLC and the California State Teachers' Retirement System (CALSTRS), two investors that collectively own roughly $2 billion in Apple shares, said the company should play a "pioneering role" by addressing the health and well-being of children who have been overusing their devices.
"As a company that prides itself on values like inclusiveness, quality education, environmental protection, and supplier responsibility, Apple would also once again be showcasing the innovative spirit that made you the most valuable public company in the world," the letter reads.
The investors said by addressing the issue, Apple would increase the value of their shares "by creating more choices and options for your customers today and helping to protect the next generation of leaders, innovators, and customers tomorrow."
The appeal cited several studies which showed frequent smartphone use among children can cause "unintentional negative consequences."
One study from the Center on Media and Child Health and the University of Alberta found that 75 percent of teachers observed a reduction in students' ability to focus in the past three to five years since smartphones became prevalent.
The investors also cite the research of professor Jean Twenge, a psychologist at San Diego State University and author of the book iGen, who discovered that teenagers who spend five hours a day on electronic devices are 71 percent more likely to have a risk factor for suicide, compared to those who spend less than one hour.
Twenge's research led her to find the "sudden, large changes" in suicide rates among teenagers from 2010 to 2015 were linked to an increase in smartphone usage. She did advised everyone to limit their screen time to two hours a day.
"The preponderance of the evidence points in the direction of more screen time leading to depression and mental health issues," Twenge said in an interview with the Washington Times in November. "Doing nothing risks these mental health issues continuing to be at these historically very high levels. The research suggests we shouldn't be telling people to give up their phones entirely; it's limiting the amount of screen time."
Exposure-response curve of hours of electronic device use and % with at least one suicide-related outcome, bivariate and with demographic controls, YRBSS survey of 9th to 12th graders in the U.S. (from Clinical Psychological Science article out today). pic.twitter.com/zjekXk6oyO

— Jean Twenge (@jean_twenge) November 14, 2017
The letter also cited other a study that found several hours of smartphones use a day can lead to sleep deprivation, and another study that found children who spent five days away from their smartphones at an outdoor camp did "substantially" better on an empathy test than a control group of their peers.
On average, children receive their first smartphone at the age of 10, according to a study from Influence Central. Once they have their phones, teens average nearly seven hours of screen media use a day, according to a 2015 study from the Common Sense Census.
Now, half of all teens report that they feel "addicted" to their smartphones, according to the Common Sense Census.
"It would defy common sense to argue that this level of usage, by children whose brains are still developing, is not having at least some impact, or that the maker of such a powerful product has no role to play in helping parents to ensure it is being used optimally," the investors said in their letter.
The shareholders said they did not want to stop children from using smartphones entirely, and cited Twenge's findings that teenagers who use their electronic devices for up to an hour a day are more happy than their peers who do not use their devices at all.
Instead, they suggested that Apple should make software changes that limit screen time based on the user's age and offer other age-appropriate options for parents, so that a child "is not being handed the same phone as a 40-year old."
The letter also advises Apple to educate parents about the changes and study the issue of young people over-using smartphones. They also want the tech-giant to monitor the issue just as they do in relation to environmental and supply chain issues.
"Apple's business model is not predicated on excessive use of your products," the investors said. "In fact, we believe addressing this issue now by offering parents more tools and choices could enhance Apple's business and increase demand for its products."
While the letter focused on the harmful effects smartphone addiction can have on children, other studies have shown that adults are also addicted to their smartphones. More than half of Americans said admit they have used their smartphone while driving, according to a 2013 Mobile Consumer Habits study. Researchers also found that nine percent of Americans use their smartphone during sex and 12 percent use their smartphones in the shower.
You can share this story on social media: