'Nobody called 911': Bystanders snap selfies & rob knocked-out woman (VIDEO)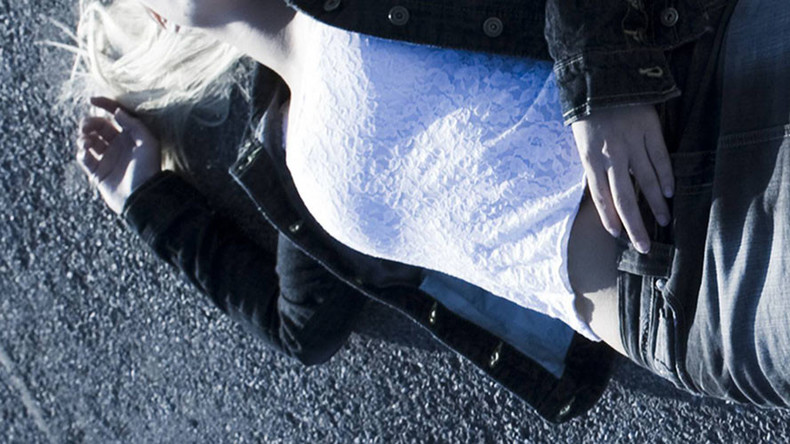 Disturbing footage has emerged showing a man punching a woman in the face and knocking her out in Pittsburgh, Pennsylvania. Instead of helping the victim, bystanders snapped photos and videos of her motionless body and stole her cellphone.
The surveillance video shows a woman approaching a man in the neighborhood of Beechview. The man responds by kicking her leg out and punching her, causing the woman to collapse on to the sidewalk, unconscious.
A group of men can later be seen walking over to the woman – but instead of helping her, they pull out their cellphones and begin snapping photos and videos. They also appear to take the woman's cellphone from her.
The video shows both the attacker and the bystanders were African-American, while the victim is white.
"They didn't help her. They took what looks like her phone while she's out cold," the source who provided the video to local CBS affiliate KDKA told the station, adding that "nobody called 911."
"They actually come back. A kid lies beside her and takes a selfie," the source said. The woman continued to lie on the sidewalk until she regained consciousness, a source close to the investigation told KDKA.
"They don't treat animals like that. They wouldn't treat a dog that way," the victim's mother told the station. The incident occurred a month ago, but the video only surfaced on Thursday.
It has since emerged that the victim was a drug addict with a history of arrests. Upon hearing that information, a local doctor from Gateway Rehab stepped in to help.
"This is my oath, to help people who are sick," Dr. Neil Capretto said. "She's sick and she needs help,"
The woman has entered the rehabilitation program and is doing well, according to her mother.