Trump signs 2 orders to expand broadband internet access in rural America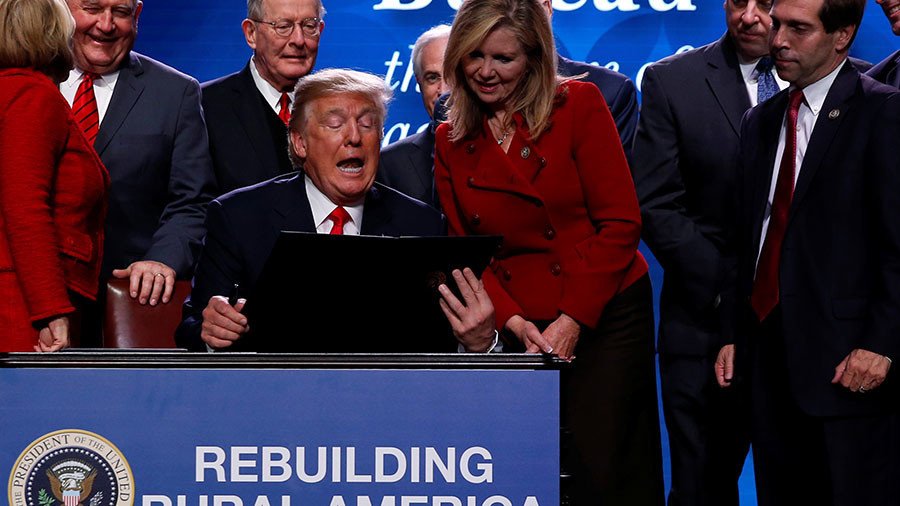 President Donald Trump has signed two presidential orders to boost "broader, faster – and better internet coverage" in rural areas after addressing the largest general farm organization in the country.
At the American Farm Bureau Federation's annual conference in Nashville, Tennessee, on Monday, under the theme "Rebuilding Rural America," Trump told the audience "you are forgotten no more." The address was similar in tone and style to his campaign speeches.
The first presidential order, "Streamlining and expediting requests to locate broadband facilities in rural America," streamlines broadband installation processes for federal agencies by standardizing forms and contracts for installing antennas on federal buildings, according to the White House. The second, "Supporting broadband tower facilities in rural America and federal properties managed by the Department of the Interior," notifies the Department of Interior to set aside assets for broadband installation on federal land.
Trump encouraged his audience to follow him on Twitter for more information about the orders. "Look up @realdonaldtrump – it's the only way around the media… Fake media!"
Trump said farmers had suffered the "relentless intrusion from the army of regulators" for years, while highlighting his achievements in first year in office. He vowed to renegotiate NAFTA and build a wall on the Southern border.
Trump's opening remarks focused on praising the roles farmers have played in US history, saying they founded the country and won its independence.
"Our continent was tamed by farmers… Our armies were fed by, and were made of, farmers," he said.
Trump told the crowd that tax cuts were already benefiting family farmers and other middle class Americans, as "Over a million workers have already received a tax cut bonus," he said.
"Nobody thought of that when we made the bill," Trump added. "Yet every Democrat voted against tax cuts for the American farmer and the American worker."
Farmers will be able to deduct the cost of equipment next year and be "spared the punishment of the deeply unfair estate tax, known as the death tax, so you can keep the farm in your family!" he said to a standing ovation.
Trump promised to work with Congress to pass a farm bill "that includes crop insurance – unless you don't want me to!" he said in a jocular tone.
While Trump had ample support among rural voters in 2016, he proposed cutting $46.5 billion of federal agricultural funding last May, Reuters reported. The plan had called for caps on government spending toward crop insurance.
He also promoted his infrastructure plans, saying that roads and railways would "be built, like I do, under budget and ahead of schedule."
Attendees rallied in chants of "USA! USA!" when Trump shifted to defending national pride against protesters.
"We want our flag respected! And we want our national anthem respected also," the president said. "There's plenty of space for people to express their views in protest, but we love our flag and our anthem, and we want to keep it that way."
Trump also drew loud applause for noting that his administration "ditched" the Obama-era Waters of the United States Rule, a regulation that expanded the definition of waterways where activities were regulated or prohibited.
Lauding other regulatory repeals, Trump said, "We're restoring the rule of law and protecting our cherished Second Amendment," reinforcing his point with a rifle-shooting gesture.
"We have to remember our history – mostly good, some not good," Trump said. He then referenced the January 8, 1815 attack during the Battle of New Orleans where General Andrew Jackson and his Tennessee Volunteers defeated the British army "nearly twice as large" that "everybody thought was totally unstoppable." Jackson's farmer soldiers prevailed, and proved right his words that "farmers are the basis of society and true friends of liberty."
"Farm country is God's country," Trump said to another standing ovation.
You can share this story on social media: