Outrage as Trump administration ends temporary protected status for 260k Salvadorans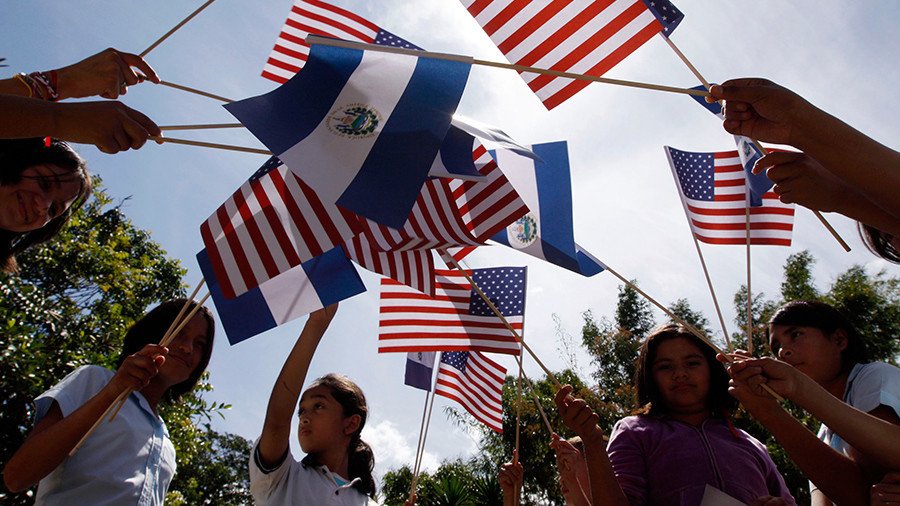 Salvadorans living in the US under the temporary protected status (TPS) will have to return home or seek alternative immigration status by September 2019. The decision has provoked outrage from critics of President Donald Trump.
"The decision to terminate TPS for El Salvador was made after a review of the disaster-related conditions upon which the country's original designation was based and an assessment of whether those originating conditions continue to exist," Homeland Security Secretary Kirstjen Nielsen said on Monday.
Having determined that the "original conditions caused by the 2001 earthquakes no longer exist," under the applicable statute, the "current TPS designation must be terminated."
Washington granted TPS to tens of thousands of Salvadorans in 2001, following a 7.6 magnitude earthquake in El Salvador that killed 944 people and injured over 5,500. The temporary measure, extended every 18 months since, allowed them to stay in the US. According to the Congressional Research Service, there were up to 262,528 Salvadorans under TPS as of October 2017.
"To allow for an orderly transition, the effective date of the termination of TPS for El Salvador will be delayed 18 months to provide time for individuals with TPS to arrange for their departure or to seek an alternative lawful immigration status in the United States, if eligible," Nielsen said. This would put the expiration date of the TPS at September 9, 2019.
The Trump administration has already discontinued the TPS for some 5,000 Nicaraguans and almost 60,000 Haitians, who were likewise allowed to stay in the US due to natural disasters in their native countries. The Nicaraguan TPS expired last Friday, though it will remain in effect until January 2019. The the Haitian protections are due to expire on January 22.
Nielsen said the fact that over 39,000 Salvadorans have been repatriated over the past two years shows that "the temporary inability of El Salvador to adequately return their nationals after the earthquake has been addressed."
However, her announcement prompted outrage similar to what greeted Trump's decision to end DACA, the Obama-era program for children of immigrants in the US illegally.
The government has ended protection from deportation for 200K Salvadorans. "Behind us there are children and wives and nephews and nieces and mothers and fathers who depend on us...It affects a ton of people." https://t.co/U87Lo42Fco

— Southern Poverty Law Center (@splcenter) January 8, 2018
DHS has ended TPS for El Salvadorians - another step of Trump's racist agenda to force people of color into the shadows.Congress must act now to save TPS or they'll be complicit in mass expulsion of people who have lived in the US for nearly 20 years.https://t.co/mEzlVYM8sF

— United We Dream (#DreamActNow: 478-488-8059) (@UNITEDWEDREAM) January 8, 2018
Salvadoran President Salvador Sánchez Cerén phoned Nielsen on Friday and appealed her to extend TPS, according to the Washington Post. Salvadorans in the US, including those under TPS, sent $4.5 billion to relatives in El Salvador in 2016, the Post reported.
On Monday, Salvadoran Foreign Minister and Chancellor Hugo Martinez said the country would greet "with open arms" any TPS recipients who choose to return. The government also appealed to Salvadoran TPS recipients to "remain calm" and noted that their status will expire in September 2019.
Compatriotas #TPS que decidan regeresar al país serán recibidos con brazos abiertos y programas de emprendedurismo, empleo, entre otros, dice Min. @HugoMartinezSV.

— RREE El Salvador🇸🇻 (@cancilleriasv) January 8, 2018
The largest community of Salvadorans with TPS, around 32,000, resides in Washington, DC and its surroundings. The next-largest communities are in Los Angeles, New York and Houston.
You can share this story on social media: