Hacker who stopped WannaCry, indicted for malware, gave a forced confession – defense team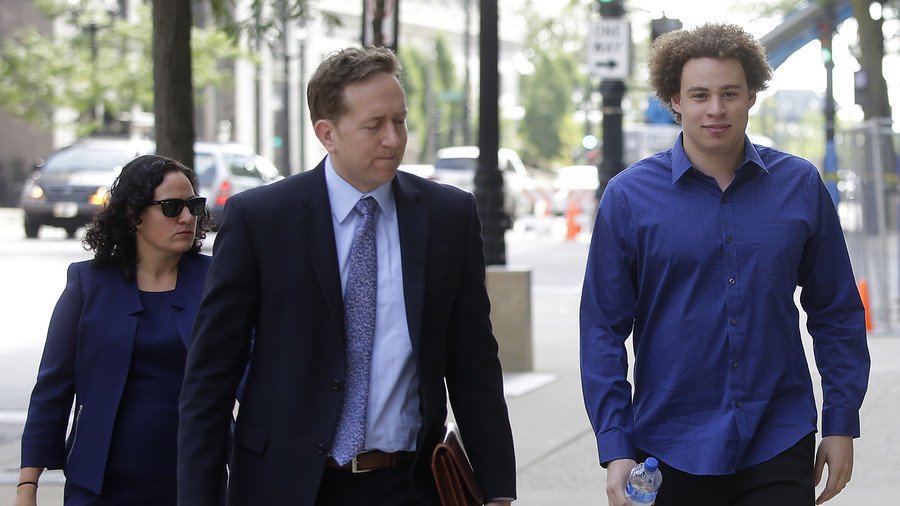 Lawyers for a hacker who stopped the WannaCry ransomware that paralyzed computers around the world and almost brought the NHS to its knees, says he was coerced into confessing to spreading malware, being tired and intoxicated.
Marcus Hutchins, 23, was arrested in Las Vegas airport after attending the annual Def Con hacking convention and later indicted for advertising, distributing and profiting from a malware code called "Kronos" between July 2014 and July 2015. Kronos is downloaded via email attachments and exposes banking and credit card credentials.
Hutchins, AKA 'MalwareTech,' the British hacker who currently resides in Los Angeles after posting $10,000 bail, denies all six counts of creating and distributing the banking trojan.
In court documents filed Friday, his defense team alleges he had been subjected to prior surveillance before his arrest and therefore, arresting officers would have known that he was "exhausted and intoxicated at the time."
"The defense intends to argue that the government coerced Mr Hutchins, who was sleep-deprived and intoxicated to talk," they added. "As such, his decision to speak with the agents was not knowing, intelligent, and made in full awareness of the nature of the right given up and the consequences of giving up that right, as the law requires."
The team also argued that he may not have been read his Miranda rights and that he may have wrongly believed his silence may have been used to prosecute him, as under UK law there is no right counsel like there is in the US. The interrogating officers allegedly failed to record audio of Hutchins being read his Miranda rights, despite recording the majority of the interview. The defense also filed a motion to compel authorities to turn over five previously withheld pieces of evidence from the discovery section of the case.
The US government does not deny conducting surveillance on Hutchins prior to his arrest, but will not furnish the defense team with any information from said surveillance operations.
"The defense believes the requested discovery will show the government was aware of Mr. Hutchins' activities while he was in Las Vegas, including the fact that he had been up very late the night before his arrest, and the high likelihood that the government knew he was exhausted and intoxicated at the time of his arrest."
The motion also requested additional information on Hutchins' unnamed co-defendant, known only as 'Randy,'
who has yet to be apprehended. The defense has only received heavily redacted transcripts of Randy's interview with the FBI reports CSO Online.
There may also be grounds for the defense team to dismiss a minimum of two of the charges levelled against Hutchins if they can prove that the legal instructions given to the grand jury were incorrect or that the indictment was misstated.
RT.com has reached out to Hutchins for comment.
A trial date has not yet been set.
You can share this story on social media: