'Bomb cyclone' kills 22, leaves frozen wake of destruction (PHOTOS, VIDEOS)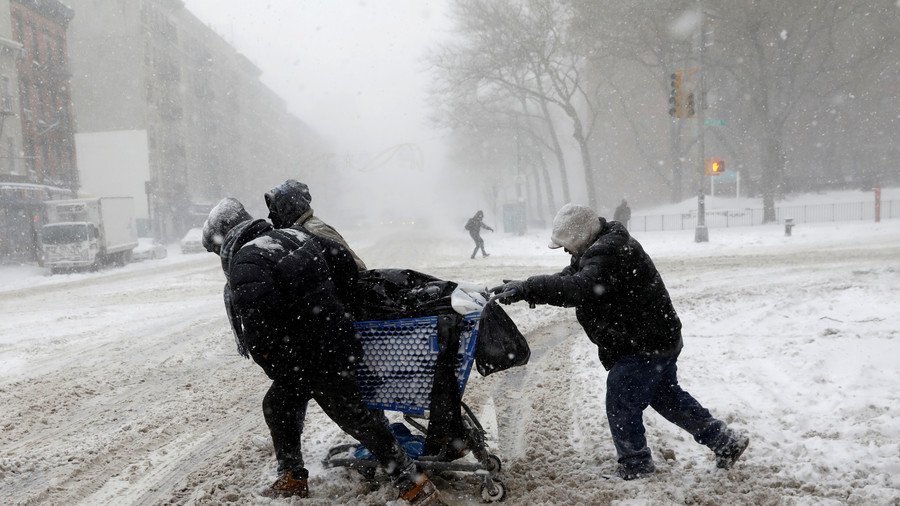 The 'bomb cyclone' cold weather system that hit the US east coast this week has moved on, leaving freezing temperatures and more than 20 dead in its wake.
At least 22 people have died as a result of the extreme conditions, CBS News reports. The casualties include a girl who was hit with a pickup truck whilst sledding in Richmond, Virginia, and a man who was killed by a snow plow, also in Virginia.
The National Weather Service said the "arctic airmass [is] to remain entrenched over the eastern US this weekend."
"Bitterly cold temperatures and dangerous wind chills are likely over the eastern third of the country this weekend," it warned.
Never again on the #NorwegianBreakaway. That was the scariest cruise ever. All we knew was tenders couldn't make it to NCL private island. Then we just left, no information, no updates, 3+ days of rough waves, and entire family sick, locked inside a tilted ship. Disgraceful..... pic.twitter.com/5ecdPtTrlc

— Los_Angeles (@LA4Life32) January 6, 2018
Passengers on the Norwegian Breakaway cruise ship in the Atlantic Ocean endured a terrifying experience as the 4,000 capacity ship cut straight through the storm as it headed for New York. For two days, the ship battled the storm in an ocean where swells reached 30 feet (9 meters).
Passengers described the experience as traumatic, as the ship began leaking and people suffered seasickness.
"All guests and crew are safe," Norwegian Cruise Line said in a statement, CBS New York reported. "We sincerely apologize to our guests for these stronger than expected weather conditions and any resulting discomfort they may have experienced."
On Thursday, the US Coast Guard Northeast shared footage of one of its ships breaking through the ice on the Hudson River, where it conducted search and rescue missions during the storm.
Rescue workers and authorities across Massachusetts, Maine and other affected areas on the east coast fought to clear snow and help people escape from flooded areas in the wake of the storm.
Several people made use of the extreme weather to carry out some risky attempts at winter sports. In Boston, a man was spotted skiing off the back of a Lamborghini.
Other Bostonians began using Beacon Hill as a ski slope.
You can share this story on social media: