Baltimore parents, teachers outraged as kids taught in near-freezing classrooms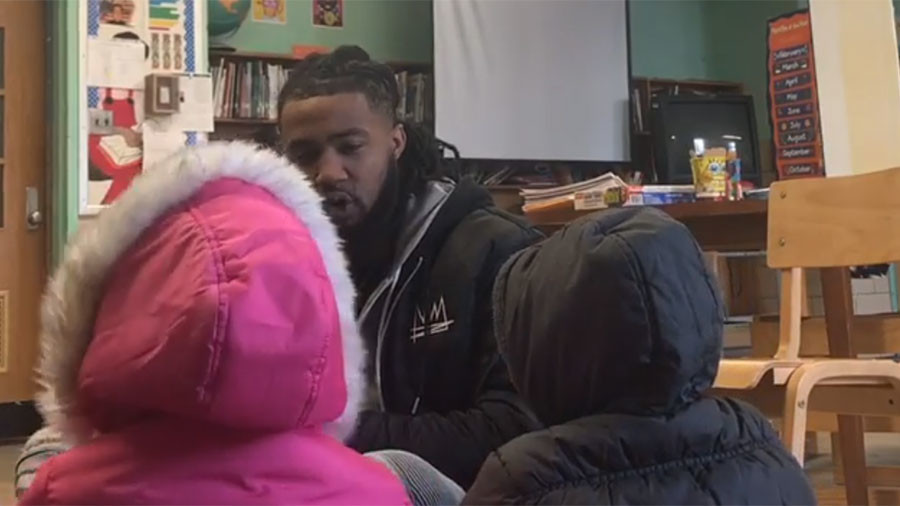 Amidst severe snowstorms, Baltimore City closed its public schools this week following national outrage after children were shown freezing in classrooms, and long-running heating issues flared up again.
The furor was prompted after former NFL linebacker and teacher, Aaron Maybin, took to social media Wednesday to ask how he was supposed to teach children wrapped up with winter coats and gloves when room temperatures were 40 degrees Fahrenheit.
"It's really ridiculous the kind of environment we place our children into and expect them to get an education," Maybin said. "I got two classes in one room, kids are freezing. Lights are off. No computers. We're doing our best but our kids don't deserve this."
The video post shows Maybin instructing kids how to warm their hands by rubbing them together, prompting a slew of responses and over 2,000 likes.
The post prompted Schools CEO Sonja Santelises to blame the "unprecedented" cold in a Facebook Live video.
"We don't normally close just because it is a cold day," she said, according to USA Today. "But we also understand, and I hear people, that this is sustained cold. And nobody in this city, including me, wants folks sitting around in coats and in mittens all day for the entire day."
Students freezing in classrooms has been reported on before. On December 13 last year, WMAR reported on a series of tweets that showed a classroom with students wearing winter coats, acknowledging that parents had been complaining about the lack of heat in classrooms two weeks prior.
@BaltCitySchools i️t is freezing in this school ! BALTIMORE POLYTECHNIC INSTITUTE HAS NO HEAT ! KIDS ARE SHIVERING . HAVE BRUNG BLANKETS , JACKETS, GLOVES, AND SCARFS! THE ENTIRE HEATING SYSTEM IS BROKEN! THIS IS NOT A SUITABLE ENVIRONMENT TO LEARN , WE CANNOT LEARN LIKE THIS! pic.twitter.com/Y9do0xhvq0

— trap mom. (@priincessgloryy) January 3, 2018
Since the beginning of 2018, the US, and in particular the North East, have been in the grip of a winter storm front that has brought extreme, below normal temperatures for this time of year, along with snow and ice. These conditions are bringing into sharp focus a decades old problem of inadequate public school funding to cover maintenance and repairs. Children at the same Baltimore schools suffer equally from stifling heat in the summer because of inadequate air conditioning.
Santelises said many schools contain leaky windows and outdated heating systems which make maintenance difficult.
It is estimated that about 60 schools in Baltimore City, nearly one third of the system, had issues with unheated classrooms, leading four schools to be closed Wednesday and the early dismissal of two others, according to USA Today.
The Teacher's Union condemned the conditions as "unfair and inhumane."
Maybin's social media post unleashed a torrent of criticism, and prompted another teacher to set up GoFundMe account with a target goal of $20,000 to purchase space heaters and outerwear. Some $45,000 has been pledged in just days.
You can share this story on social media: