School behavioral specialist lifts teenage student by the neck (VIDEO)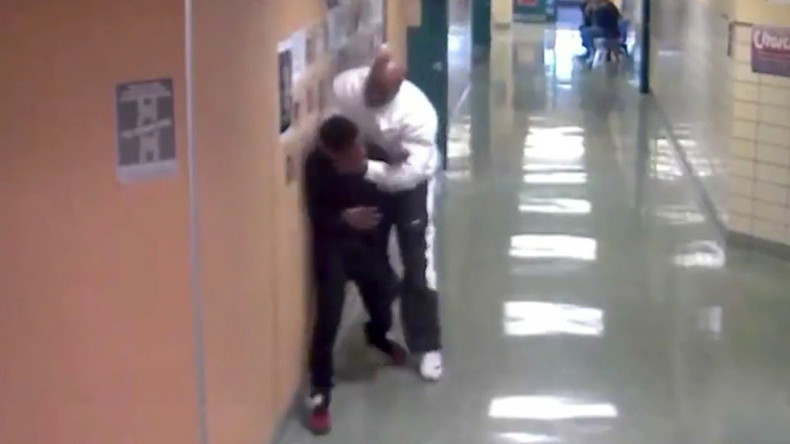 Surveillance footage of a school behavioral specialist lifting a 13 year old boy by the neck and pushing him along a corridor has been released as part of a court hearing into the employee's conduct.
Joseph Golden, 50, is facing charges of misdemeanor simple assault and endangering the welfare of a child over an incident at a school in the Woodland Hills School District in Allegheny County, Pennsylvania.
Golden, an employee of the Woodland Hills Promise Alternative School in Rankin – a specialist school for students with academic and behavioral problems – has been suspended for the April 12 confrontation.
Video of the incident was presented as evidence at a preliminary hearing.
Golden's defense attorney said the victim suffered no injuries and that his client was simply doing his job by trying to keep order.
"From what I saw, all he did was grab him and take him down the hall. He didn't choke him. He picked him up around the neck and shoulder," defense attorney Pat Thomassey said.
"The kid didn't go to the hospital, he didn't go to the doctor, he told the principal he wasn't hurt. This isn't a simple assault."
The district magistrate decided the case should go to trial after viewing the footage, reports CBS Pittsburgh.
READ MORE: 3 caffeinated drinks in 2hrs killed healthy US teen – coroner
The incident is the latest in a series of controversies to hit Woodlands Hills. Investigations are underway into two other alleged assaults in the school district.
A PR company has been contracted by the school district to deal with the succession of negative incidents, a move heavily criticized by Braddock Mayor John Fetterman on Twitter.
.@WoodlandHillsSD PR Tip #1: School personnel should avoid telling students " I'm gonna knock your f'ing teeth down your throat."

— John Fetterman (@JohnFetterman) May 18, 2017
.@WoodlandHillsSD PR Tip#6: Yanking, choking, slamming, and tasering a child just sitting in a chair is ABUSE. There's no ambiguity.

— John Fetterman (@JohnFetterman) May 18, 2017