Time for (regime) change? Neocons press Trump to sanction Iran over protests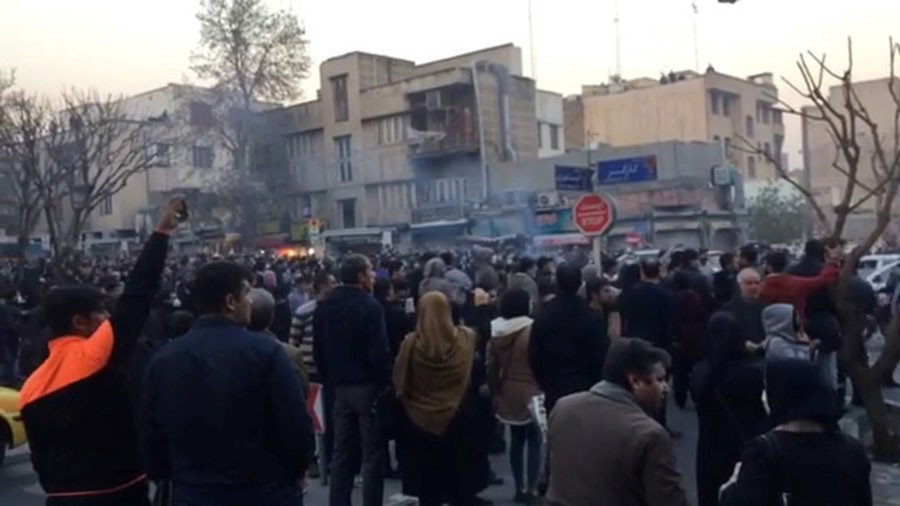 US neoconservatives and liberal interventionists are pushing President Donald Trump to ratchet up pressure on Tehran, as protests sparked by economic stagnation continue for a fifth day in Iran.
New sanctions are possible, US deputy Assistant Secretary of State for Iran and Iraq, Andrew Peek, told VOA News. Trump adviser Kellyanne Conway confirmed the possibility in a Fox News appearance Tuesday.
Iran is "failing at every level," Trump tweeted early Monday morning, adding "TIME FOR CHANGE!"
The White House is "keeping our options open," Press Secretary Sarah Huckabee Sanders told reporters at the first briefing of the year Tuesday afternoon. "America longs for the day when Iranians will take their rightful place alongside the free peoples of the world."
When pressed on whether the US wants regime change in Iran, Sanders said Washington wants to "see the people of Iran given basic human rights, and Iran to stop being a state sponsor of terrorism."
Sanctions are just part of the US "tool kit," State Department spokeswoman Heather Nauert said Tuesday. "There are a range of options that we have going forward."
The implied threats come just weeks before Trump has to decide whether he will certify that Iran is in compliance with the Joint Comprehensive Plan of Action (JCPOA) nuclear deal. Despite Iran's compliance, as verified by the International Atomic Energy Agency (IAEA), the Trump administration has already imposed sanctions on Tehran, allegedly over its ballistic missile research. In October, Trump declined to recertify Iran's compliance and announced additional sanctions.
As the US media fixate on the protests and the White House hints at sanctions, a group of both neoconservative hawks and liberal interventionists are imploring Trump to intervene, behind a veneer of concern for ordinary Iranians.
A joint Politico article penned by Mark Dubowitz of the neoconservative think tank Foundation for Defense of Democracies, and Daniel Shapiro, who served as Israel's ambassador to the US under the Obama administration, accuses Iran of being "socialist" and "stifling to private entrepreneurship," and calls for "bipartisan statutes to target the regime for corruption through the Global Magnitsky Act" and "use sections 402 and 403 of the Iran Threat Reduction and Syria Human Rights Act" as an act of "humility."
The Washington Post's neoconservative blogger Jennifer Rubin featured a call by former ambassador to Turkey Eric Edelman to "make clear that the whole world is watching" and impose "cold war" style "targeted sanctions." Rubin said Trump's tweets threatening Iran "hit the right note," marking probably the first time she has agreed with Trump on anything.
"What's more important than public statements are US policies that can inhibit the regime's coercive capacity and their ability to black out communications," senior fellow at the Carnegie Foundation, Karim Sadjadpour, wrote in The Atlantic.
Senator John McCain (R-Arizona), who was filmed singing "bomb Iran" in 2007, called for an "end to corruption in Iran."
As many journalists have pointed out, however, the pundits' claims of concern for the well-being of Iranians appear to be hypocritical.
You can share this story on social media: