Young, pregnant and high: More moms-to-be smoking pot, study reveals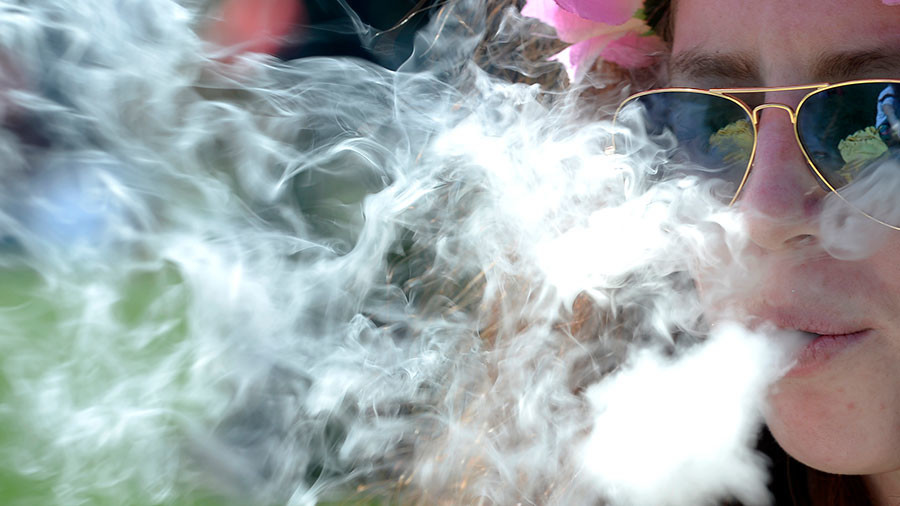 More than one-fifth of American teenagers are using marijuana during pregnancy, a new study finds. Use of the drug, found to impair an infant's brain development and function, is on the rise with pregnant women of all ages.
The number of women who self-reported using marijuana during their pregnancy rose from 2.4 percent in 2009 to 3.9 percent in 2016, according to a new study published Tuesday by the Journal of the American Medical Association.
From 2009 to 2016, prenatal use of marijuana increased most significantly for women under the age of 25. In 2016, more than one-in-five (21.8 percent) women under the age of 18 reported to using the drug in the past month, up from 12.5 percent in 2009. Use among women between the ages of 18 and 25 nearly doubled during that time, from 9.8 percent in 2009 to 19 percent in 2016.
The study notes that marijuana is "the most commonly used illicit drug during pregnancy," adding that use of the drug has been increasing.
READ MORE: Marijuana use jumps among pregnant women in US in 2016 – report
Prenatal marijuana use also increased among women of all ages. Last year, 5.1 percent of women between the ages of 25 and 34 years old reported to using marijuana while pregnant, up from 3.4 percent in 2009. A total of 3.3 percent of women older than 34 also reported to using the drug during their pregnancy in 2016, an increase from 2.1 percent in 2009.
Researchers relied on self-administered questionnaires completed by 279,457 women eight weeks into their pregnancy. The women were treated at Kaiser Permanente facilities that had screening for marijuana use as part of standard prenatal care.
However, the study notes that some of the patients who did not say they used marijuana on their questionnaires, later tested positive on a cannabis toxicology test, leading researchers to state their data was "likely" underreported. The study adds that prenatal use may increase even more in 2018, after recreational use of marijuana is set to become legal in California.
While studies on pregnant women who use marijuana have been limited, the researchers state that prenatal use of marijuana may impair fetal growth and neurodevelopment.
In October, the American College of Obstetricians and Gynecologists (ACOG), which discourages marijuana use among pregnant or breastfeeding women, said that prenatal marijuana use could cause harm to an infant's brain development and function.
Citing studies, the ACOG warns that "children who were exposed to marijuana in utero had lower scores on tests of visual problem solving, visual-motor coordination, and visual analysis than children who were not exposed to marijuana in utero."
"Obstetrician–gynecologists should be discouraged from prescribing or suggesting the use of marijuana for medicinal purposes during preconception, pregnancy, and lactation," The ACOG committee wrote in an opinion. "Pregnant women or women contemplating pregnancy should be encouraged to discontinue use of marijuana for medicinal purposes in favor of an alternative therapy for which there are better pregnancy-specific safety data."
The Centers for Disease Control and Prevention (CDC) also warns pregnant mothers against using marijuana to ease nausea and other pregnancy symptoms, saying that the drug can cause problems in newborns, including low birth weight, and developmental problems.
Recreational marijuana use is now legal in eight US states and the District of Columbia. A total of 23 states have laws that allow the use of marijuana for medicinal purposes to some extent. However, on a federal level, it is still illegal to possess, use, buy, sell, or cultivate marijuana.