US troops in Afghanistan to 'increase dramatically' in 2018 - general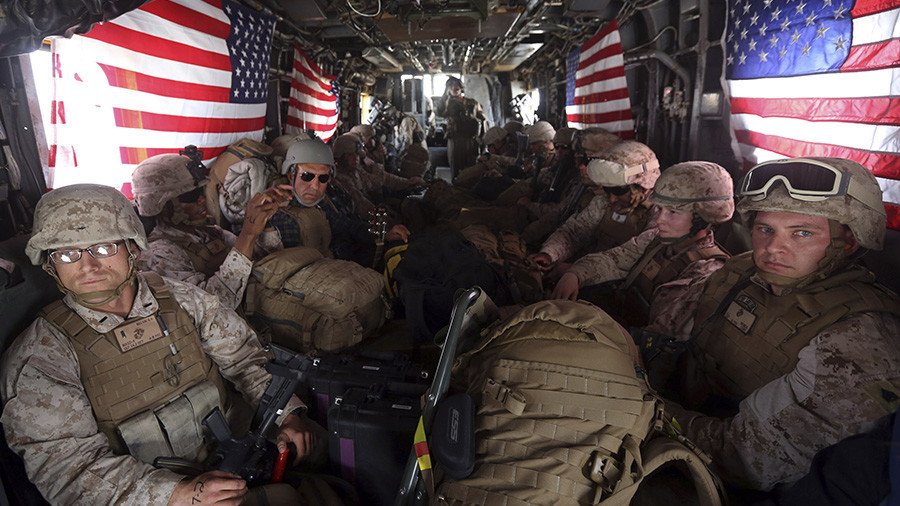 More American troops will be headed to Afghanistan in the new year, the top US general in Kabul told reporters. Increased numbers of US advisers will be backed by combat troops as well.
There are over 1,000 advisers out with Afghan forces at any given time, General John W. Nicholson Jr. told reporters Sunday. "Next year, however, this will increase dramatically."
The new plan for turning the corner in a war the US has fought since 2001 involves deploying more advisers in battle alongside Afghan security forces, Nicholson said. The brigade-size teams "will be backed up by US combat enablers, not only for the protection of our own force, but for support of Afghans as well," he said.
Two brigade combat teams from the 4th Infantry Division will head out to Afghanistan from Fort Carson, Colorado in the spring, the US military newspaper Stars and Stripes reported. The 6,000 or so troops will spend nine months in Afghanistan, and will be relieving a combat team from the 25th Infantry and another from the 82nd Airborne.
There are about 14,000 US troops in Afghanistan at the moment, including the 3,000 sent in September, following President Donald Trump's announcement in August that he would escalate the war rather than wind it down.
"Our troops will fight to win,"Trump said at the time. "My administration will ensure that you, the brave defenders of the American people, will have the necessary tools and rules of engagement to make this strategy work."
As part of the strategy, the White House has delegated substantial decision-making authority to military commanders in the field. Under this authority, Nicholson ordered the use of the Mother of All Bombs (MOAB) against Islamic State (IS, formerly ISIS/ISIL) militants in April.
The general has praised Trump's new strategy as a "game changer" and said it has already begun to pay dividends.
Vice President Mike Pence spoke along the same lines last week, when he made a surprise visit to the troops in Afghanistan.
"The results are really beginning to become evident around the country," Pence said after meeting with Afghan President Ashraf Ghani. Wishing the US troops a merry Christmas, he assured them the that Trump's new "fight-to-win strategy" for Afghanistan was "bearing fruit."
"I believe victory is closer than ever before," Pence said.
While the Pentagon is focused on the Taliban, who control approximately half the country, IS militants are expanding their presence, Russia has warned. Many IS fighters who fled Syria and Iraq have moved to Afghanistan, where they may be 10,000 strong, according to Zamir Kabulov, head of the Middle East department in the Russian Foreign Ministry.
On Monday, a suicide attack in Kabul killed six and injured two people outside the Afghan intelligence headquarters. IS claimed responsibility for the bombing.
You can share this story on social media: