Lavrov: US overreliance on strength undermines its own diplomacy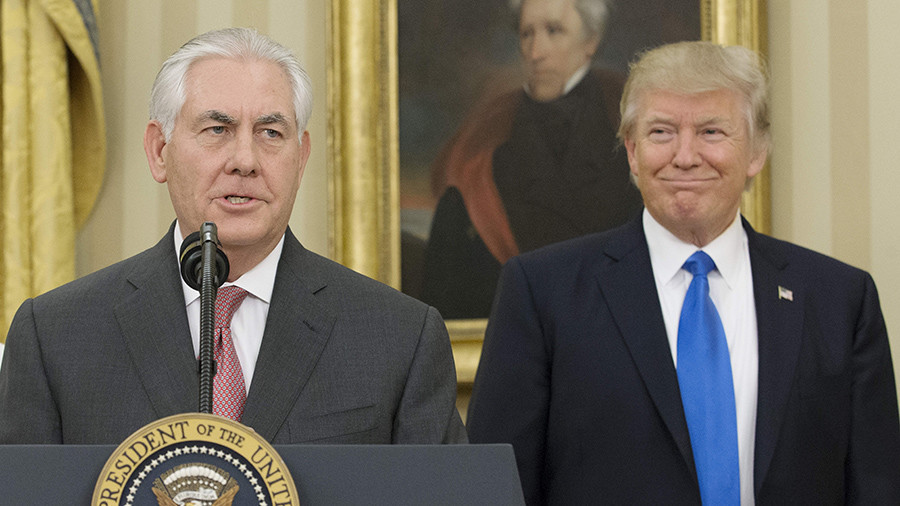 In an exclusive interview with RT, Russian FM Sergey Lavrov explained the US shoots itself in the foot when it fails to stick to its promises. Going back on the nuclear deal with Iran won't make Pyongyang agree to a similar one.
The veteran Russian diplomat had an hour-long exchange with RT, discussing the state of global affairs as seen from his position. On several occasion he lamented the state of American diplomacy, apparently sacrificed to the needs of the shifting political agenda in Washington.
One vivid recent example is the crisis in the Korean Peninsula, where the Trump administration chose a heavy-handed approach instead of a negotiated solution, Lavrov said. "I cannot fail to remark upon a trend that we have seen over the past few months. The situation is serious enough that shedding some light on the American approach to the issue is not only proper but necessary," he said.
"In September the Americans signaled that they were prepared for dialogue and didn't plan any military exercise until spring [2018] and that the North Korean leadership should keep calm too. This natural pause before spring could be used to establish some kind of dialogue. We translated this signal and it was not rejected."
Nonetheless, the Americans later announced they would be holding an unscheduled exercise in October, the minister said. "We were surprised by the lack of reaction from Pyongyang. Then in November the Americans announced they would hold an unprecedentedly large exercise with Japan, as if they were expecting to get some reaction from North Korea." Pyongyang did react after this announcement with an ICBM launch, Lavrov remarked.
This flip-flopping by America may not break any legal rules, but it certainly wins them no trust in Pyongyang, making a negotiated resolution of the conflict less likely, Lavrov noted. And neither does the Trump administration's attack on the 2015 nuclear deal with Iran, which helped to resolve a long-standing controversy over Tehran's nuclear program.
"Questioning that deal, which had put a lid on military nuclear development in Iran, has made much noise and unnerved many parties, including those who helped negotiate the deal. And the signal it sends to [North Korean leader] Kim Jong-un is very straightforward: we may lift sanctions from you in exchange for stopping your military nuclear program, but who knows what may get into our head once another administration takes over in Washington?" Lavrov said.
Yet another example of how the Trump administration in its apparent drive to destroy the legacy of Barack Obama undermines its own diplomatic corps comes from Cuba. Under Obama, the US took some positive steps in normalizing relations with Havana, even if it stopped short of lifting its trade embargo on the country. Now Washington is reversing all that, justifying the change with mysterious "acoustic attacks" on members of the US embassy in Cuba.
"The Americans tend to grab the sanctions club as soon as something doesn't go their way in diplomacy," the foreign minister remarked. "We have strength and don't need diplomacy," he said, paraphrasing a Russian saying to explain the approach.
Russia was on the receiving end of America's shifting policies in Syria, Lavrov recalled, as the stated mission of the US-led coalition morphed to follow the political currents in Washington.
"Their initial assurances as voiced to me by [Secretary of State] Rex Tillerson were that the only goal of the US in Syria is to destroy Islamic State [IS, formerly ISIS]. Now their statements have become vague, claiming that fully defeating ISIS requires starting an irreversible political transition, which will result in the removal of [Syrian President Bashar] Assad. Such interpretations of our agreements were quite unfaithful," he said.
Lavrov added that the approach is just the same as with NATO expansion. Moscow was assured, as confirmed by recently published archive materials, that the bloc would not be expanded after reunification of Germany, but the reality was the opposite. "The situation is very similar in terms of the modus operandi and how it relates to the behavior that is considered proper in diplomacy," he said.
WATCH RT'S FULL INTERVIEW WITH RUSSIAN FOREIGN MINISTER SERGEY LAVROV
You can share this story on social media: