Assange doubles down on cryptocurrencies to thwart US 'financial censorship'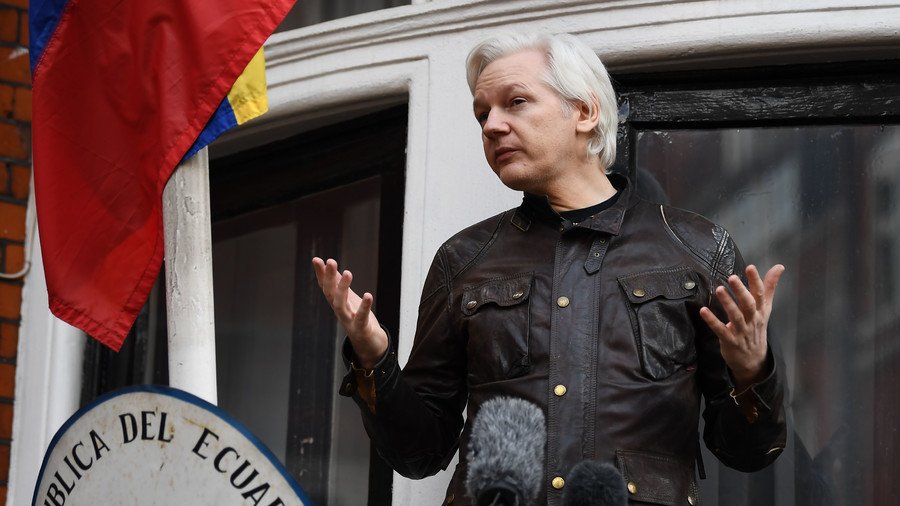 Julian Assange has exposed an apparent attempt by the US intelligence apparatus to undermine funding to WikiLeaks, using institutions he established for the express purpose of protecting potential donors from the authorities.
In a Twitter thread, posted Sunday, Assange alleges "politically induced financial censorship" that violates not only US donors' First Amendment rights but also their right to freedom of association. "US donors are the majority of our donor base," Assange wrote, as he nears the conclusion of what will be his eighth year of exile in the Ecuadorian embassy in London.
The discussion centers around two institutions: The Europe-based Wau Holland Stiftung and its US equivalent, the Freedom of the Press Foundation (FPF). "Wau Holland is not WikiLeaks. It performs a similar proxy role as FPF for Europe," Assange wrote.
For context, the Berlin-based Wau Holland collected over $1.2 million in donations for WikiLeaks before it was cut off by PayPal in 2010 for "activities that encourage, promote, facilitate or instruct others to engage in illegal activity," reported CBS. Wau Holland's charitable status was temporarily revoked by German authorities but has since been reinstated.
Meanwhile, Assange claimed that US authorities had attempted to build an initial "financial blockade" to silence the whistleblowing site back in 2010. This move would ultimately prove a spectacular failure, as Assange himself noted in October this year:
"The financial blockade was one of several fronts we faced, along with a US grand jury, a Pentagon"war room" (their term, not mine), and an intense propaganda offensive by the US military, the political class and virtually all establishment media," Assange wrote Sunday.
However, following the Vault7 leaks in 2017, Assange noted an increasing anxiety in US donors over the legality of supporting WikiLeaks. The FPF was customized in such a way so as to "counter political and legal pressure against WikiLeaks, its donors, and upstream financial intermediaries," through an anonymizing structure and built-in tax-deductibility.
An email exchange, shared as part of Assange's Twitter thread, reveals that the board of the FPF appears to have turned against him and WikiLeaks. The FPF says it will shut down WikiLeaks' US "tax deductible gateway" in January, a move Assange calls "Banking blockade 2.0."
"This week, FPF's board unanimously found – upon review of the available evidence – that the financial blockade by the major payment processors is no longer in effect, and as such, we will soon cease processing donations on behalf of WikiLeaks readers," wrote Director of the Freedom of Press Foundation Trevor Timm in an email dated December 9, 2017. "If a similar extrajudicial financial blockade is re-instated in the future, our board agreed WikiLeaks would be welcome to apply for protection again."
Assange lamented: "If it bows to political pressure it becomes part of the problem it was designed to solve." As with the previous financial blockade, Assange's response has been to expand the number of cryptocurrencies potential donors can use to financially assist the organization, adding both monero and zcash to the existing bitcoin and litecoin payment options.
You can share this story on social media: