NY comedian Randy Credico targeted in Russia investigation over 'links to Assange'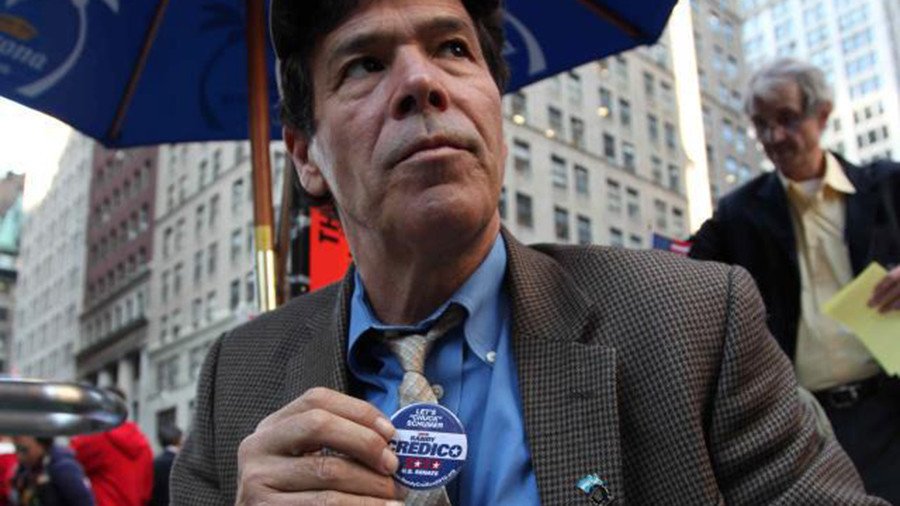 New York comedian Randy Credico has become the unlikely focus of the US government's Russia investigation. He believes the US is trying to use him as a pawn to undermine WikiLeaks founder Julian Assange, who has been dubbed a "demon" by the CIA director.
Credico is a leftist comedian, radio host, and civil rights activist who calls New York City home. The letter he received this month didn't have anything to do with comedy, radio, or civil rights, however.
Signed by Congressman Michael Conaway (R-Texas), who leads the Russia investigation in the House Intelligence Committee, and the ranking member, Congressman Adam Schiff (D-California), the letter requested that Credico "participate in a voluntary, transcribed interview at the Committee's offices" during the first half of December, Alternet reports.
Credico declined the voluntary interview, telling the House Committee through his lawyer that he would not be participating. That's when he realized the interview apparently wasn't so voluntary after all. His attorney told him that the Committee planned to issue a subpoena.
The letter did not indicate why Credico was being summoned. It stated only that his interview could cover topics including "Russian cyber activities against the 2016 US election, potential links between Russia and individuals associated with political campaigns, the US government's response to these Russian active measures, and related leaks of classified information."
Witch hunt of Assange's associates?
Credico believes the interview has to do with his dealings with Julian Assange, who is no friend of the US government. "This is about chilling WikiLeaks and that starts with intimidating anyone who has met with Julian [Assange]," he said.
The WikiLeaks founder and his associates were dubbed"demons" by CIA Director Mike Pompeo in April. Pompeo also accused WikiLeaks of siding with world dictators and endangering the "free world" with the help of states including Russia.
The Trump administration has expanded the federal jury seeking Assange's arrest over his role in the leak of a huge trove of US diplomatic cables in 2010. He faces charges of espionage, conspiracy, theft of government property, and computer fraud in the US.
Credico said he and Assange previously held "three meetings that were two to three hours each" at the Ecuadorian Embassy in London, where he has been holed up since June 2012 in an effort to avoid being extradited to the US. The meetings took place on September 6, November 13, and November 16 of this year, and fueled a series of online rumors accusing Credico of serving as a courier between Assange and former Trump adviser Roger Stone.
However, Credico said the purpose of his November trip to London was to attend the hearing of an Italian correspondent by the name of Stefania Maurizi, who had filed a Freedom of Information Act (FOIA) request demanding the right of the press to access documents regarding Assange's case.
"I was just there to support [Assange] as a wing man," Credico told Alternet's Max Blumenthal. "I don't agree with him on everything — it's the fact that he's a journalist and a publisher and has not put anything out that's false. I don't know anything about technology and he didn't give me any secrets."
Credico's advocacy for national security whistleblowers who exposed secret government torture, assassination, and mass surveillance programs in the years following 9/11 led to him hosting Assange on his former radio show 'Live on the Fly,' which aired on the Pacifica affiliate WBAI in August 2015. Several subsequent interviews also took place, along with a series titled 'Assange: Countdown to Freedom' which featured high-profile whistleblowers advocating for Assange's release.
"I had to build an audience at a moribund station and I got 65 percent of the traffic," Credico said. "I had a popular international show because it was tweeted out by WikiLeaks and Anonymous Scandinavia and I got a huge international following."
The rumors that Credico had acted as some kind of messenger between Stone and Assange are potentially a major part of why the comedian is being sought by the committee. In September, Stone testified before the committee about his contacts with WikiLeaks and a tweet that seemed to suggest he had prior knowledge of the Podesta email leak, which was ultimately published by WikiLeaks. He denied colluding with the Russian government and said that all of his contacts with Assange had been conducted through an "intermediary."
Stone, like Assange, was also a guest on Credico's radio show. The two had also cooperated on sporadic political initiatives through the years.
Still, Credico insists that "quieting" Assange is the committee's main focus. "Roger Stone is just a whipping post for the committee but the one they're after is Assange because they want to quiet him," he said.
"They're looking for a way to do in Assange," the comedian added. "And I'm the only American in the press that has visited him outside of a reporter from the New Yorker, and he's not going to talk to anyone else."
Meanwhile, Credico said that although he publicly made his disdain for Hillary Clinton clear, he wouldn't have helped Trump come to power. "I hate Trump," he said, slamming the US president's attempted "ethnic cleansing" of Haitians and Latin Americans and calling Attorney General Jeff Sessions "the worst nightmare I've ever seen."
Asked whether he will comply with the committee's request, Credico told New York 1's 'Road to City Hall' program that he is "willing to go to jail" to protect journalists' rights.
"I'm a journalist with a radio show and there's nothing [the committee] can elicit out of me because I'm covered by the First Amendment. And everything I've talked to Assange about has been on the show, and everything else is in my fu**ing notes. Would any journalist give them their notes?" he said to Alternet.
As Credico awaits his interview, which is just days away, he feels confident that the committee won't be able to break him. "Congress is no problem. I've worked much tougher rooms than that," he said.
The US government is continuing its investigation into alleged Russian meddling in the 2016 presidential election, despite no evidence emerging that Moscow interfered in any way. The Kremlin has repeatedly denied any interference or collusion with the Trump campaign, with Russian President Vladimir Putin stating in May that the anti-Russia spin was concocted by those who simply can't come to terms with the fact that Clinton lost the election fair and square. US President Trump has also referred to the investigation as a "witch hunt" while also denying any collusion between his camp and Moscow.
You can share this story on social media: