Firefighter dies in massive Thomas Fire, 4th largest in CA history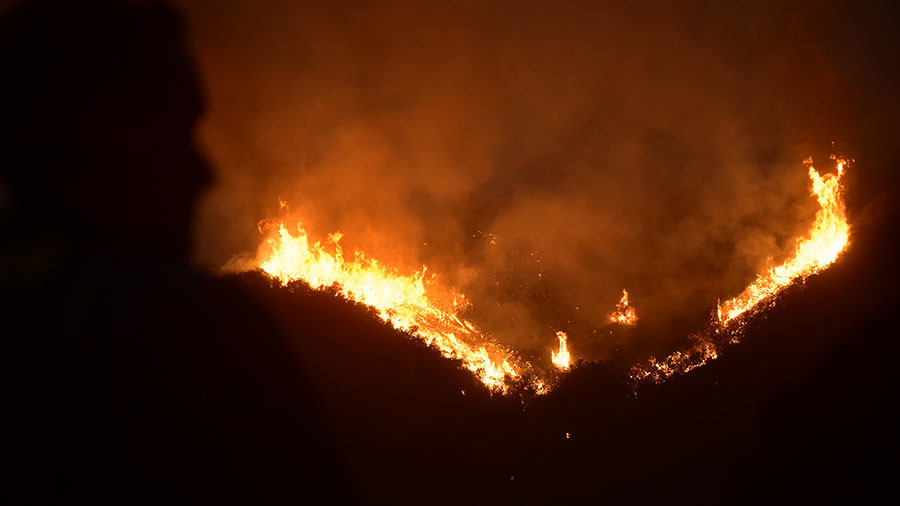 A firefighter has lost his life in the Southern California Thomas Fire, which after scorching 242,500 acres, is still raging in the state's Ventura and Santa Barbara counties. The 380-square-mile aggressive inferno is now the fourth largest in state history.
Update: The deceased firefighter has been identified as 32-year-old Cory Iverson, a Cal Fire San Diego Unit Fire Apparatus Engineer. Governor Jerry Brown (D) ordered flags to be flown at half-staff.
Officials announced Thursday that the deceased Cal Fire engineer firefighter was part of the agency's San Diego unit, but initially did not disclose his identity. Meanwhile, the Thomas Fire continued to threaten homes and hillsides, marking the 11th straight day that the fire has been burning, according to KTLA.
An engineer is an experienced firefighter leadership position, usually tasked with leading a crew and driving the fire engine.
The details of the engineer's death are also not yet clear, but a Mayday alert was sounded in the morning hours by a working firefighter, possibly close to the city of Fillmore in Ventura County, located northwest of the city of Los Angeles, according to the Los Angeles Daily News.
READ MORE: Trump declares state of emergency over California fires
Cal Fire Director Ken Pimlott stated in a press release that Cal Fire Local 2881, the California Interagency Incident Management Team 4 and Southern Region leadership are "working to support the unit and his family."
By Thursday, the Thomas Fire had burned a total of 242,500 acres, almost equal to 379 square miles. It has also demolished about 972 buildings, making the blaze the eighth most destructive wildfire in California's history, according to KTLA.
A Red Flag Warning has been issued by the National Weather Service through 10:00am Friday in Ventura County. The warning is also in effect for the mountainous areas of Los Angeles County, along with the Santa Clarita Valley, which is located east of Ventura County in Los Angeles County. Red Flag Warnings are "issued for weather events which may result in extreme fire behavior that will occur within 24 hours," according to Cal Fire.
New evacuation orders for the city of Fillmore were issued midday Thursday by the Ventura County Fire Department due to the severity of the fire.
A total of about 18,000 structures were still threatened by the Thomas Fire on Thursday, forcing 41,200 people to evacuate in Santa Barbara County, located northwest of Ventura County, where the flames have been more active in the past couple of days.
Santa Barbara County has seen 733 homes destroyed, while 175 homes and 18 commercial structures have been damaged, KTLA reported.
READ MORE: Raging California wildfires captured on camera from space (PHOTOS)
Despite the continued threat in Santa Barbara County, only 10 buildings have been destroyed so far, according to county officials, KTLA reported. It is still not clear how many of those buildings were homes.
Firefighters were concentrating on protecting homes and minimizing the fire in Santa Barbara County, which has now spread northwest into the county's communities of Carpinteria, Summerland and Montecito.
The Thomas Fire was reported as 30 percent contained since last recorded Wednesday night.
The Thomas Fire broke out on December 4 after Santa Ana winds fanned the fire's flames, resulting in a swiftly spreading blaze that has been difficult to combat. Cal Fire's data for fire history does not include blazes that occurred prior to 1932, when record keeping was less reliable, KTLA reported.
You can share this story on social media: