11yo girl handcuffed, held at gunpoint by Michigan police (VIDEO)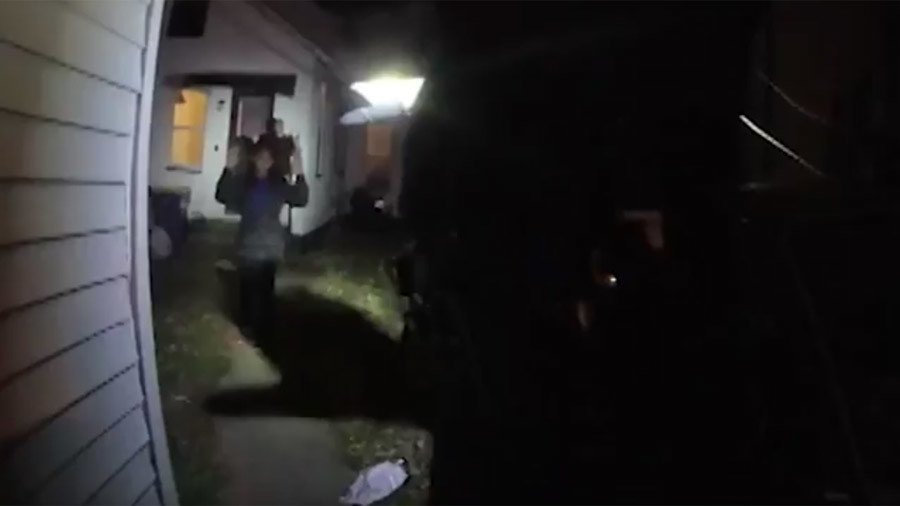 Police officers in Grand Rapids, Michigan, held an 11-year-old black girl at gunpoint and handcuffed her until they could determine she was neither armed nor an attempted homicide suspect they were looking for. The incident triggered widespread condemnation.
Footage of the incident involving elementary school student Honestie Hodges was captured on a bodycam, and was presented by Grand Rapids Police Department during a press conference Tuesday. The video shows Hodges walking with her hands up until an officer tells her to turn around and walk backward, all while her mother Whitney Hodges yells: "That is my child. She's 11 years old. It does matter."
The girl begins to scream wildly when another officer takes out the handcuffs. The officer can be heard saying: "You're fine, you're not going to jail or anything." Hodges is then ordered to stop crying as she is patted down and put in the back of a police cruiser.
The ordeal took place last Wednesday, when Hodges was leaving through the back door of her home to go to the store, local news reported. The police had arrived to look for the girl's aunt, Carrie Manning, an attempted murder suspect, the department's statement said.
Manning, a 40-year-old white woman, had allegedly stabbed her sister before fleeing. Police said the officers had to detain the minor and two other women in the house until they could determine they were not the suspect and were unarmed. After searching the house, police did not locate Manning and released the women.
"The 11-year-old was handcuffed for a total of two minutes while she was brought back into the alley and patted down to make sure that she did not have anything dangerous on her," the agency's spokeswoman, Cathy Williams, is quoted by AP as saying. Hodges then spent around 10 minutes in the car, she added.
"It made me feel scared and it made me feel like I did something wrong," the girl told local news. "When my mom was walking past, I was putting my hands through the little bars, banging on the windows, screaming, 'Please don't let them take me,'" she added.
Following a complaint on the girl's behalf, police launched an internal investigation into "inappropriate" treatment, police chief David Rahinsky told reporters Tuesday. "The juvenile is treated the same way you would have treated any adult. And when you're dealing with an 11-year-old, it's inappropriate," WOOD-TV quoted Rahinsky as saying.
READ MORE: Florida cops struggle to explain to black state attorney why she was pulled over (VIDEO)
"The screams of the 11-year-old, they go to your heart. You hear the mother yelling from the steps, 'That's my child!' That's our community's child. That's someone who lives in Grand Rapids. That's someone who should feel safe running to an officer," Rahinsky said, pledging to look "at everything, from our hiring to our training to our supervision."
"Police officers have to be pretty narrow-minded to believe they have to cuff an 11-year-old black girl to determine that she's not a 40-year-old white woman. Then you wonder why you're losing respect," Facebook user Deborah Bolden commented under the department's post on the social media page. Another user said it was "cruel, sad, inexcusable."
Hodges' detention riled Grand Rapids residents, who demanded local authorities prevent similar incidents from happening in the future, as well as calling on them "to repair relationships between the community and the GRPD." The city mayor, Rosalynn Bliss, admitted there was "a lot of work to do."
You can share this story on social media: