Louisiana justice: Cops beat up Black teen at Earth Day event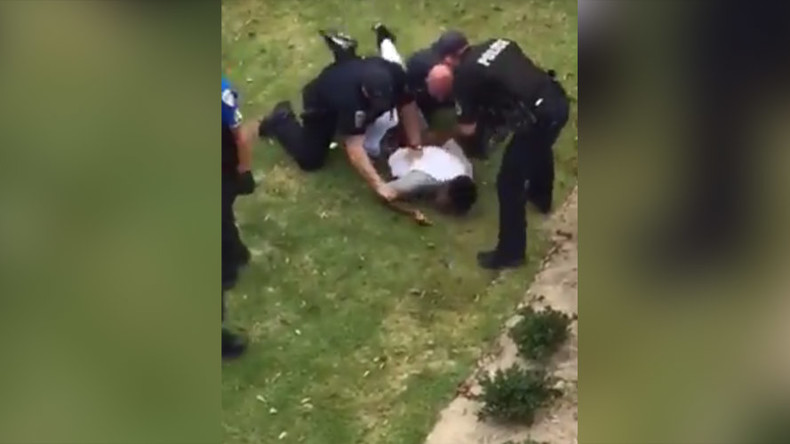 A peaceful event celebrating the planet broke out in violence when a White police officer repeatedly punched a Black teenager in the head while trying to arrest him.
Sgt Todd Bourgoyne, a 22-year veteran of the Baton Rouge Police Department, has been placed on administrative leave, Sgt Don Coppola announced Tuesday morning, although he "would not confirm what role Bourgoyne played in the event", according to the local newspaper The Advocate.
An internal investigation has been launched after video emerged showing the brutality at Sunday's annual Earth Day Event.
READ MORE: Police beat, strangle, Taser men held unlawfully at Chicago's 'Gitmo'
Ja'Colby Davis, 16, was pinned to the ground by other cops with his hands behind his back when he was hit.
Another officer can also be seen pointing what appears to be a taser to the teenager's head, although it wasn't fired on the video.
The victim's mother, Danielle Todd, said Davis and his younger brother complied when police asked them to stand back from a fight that erupted nearby.
When cops continued to push the teenager, he asked why they were grabbing him and was then thrown to the ground, according to Rouge Collection.
It's understood that the video shows what happened after this point.
"I feel like this shouldn't happen to anyone's child," Todd told the local news website. "No parent should have to see a video of police officers beating their child for asking a question."
Before announcing his colleague's suspension, Coppola said the teenager must have attacked an officer in the moments prior, reported The Advocate.
"Obviously it was some type of act of violence toward the officer prior to what was seen in the video," said Coppola.
The young victim has been charged with battery of a police officer and resisting an officer with violence or force, which police say happened off camera. Davis is not seen assaulting any officers on the video.
None of the officers were wearing body cameras during the incident, which has attracted the attention of current mayoral candidate Sharon Weston Broome.
She says that this incident "draws close attention back to the need of body cameras".
"Other police departments across the country are taking advantage of this new technology that has been shown to deter inappropriate conduct from police officers while documenting when force is needed in crisis situations," a statement from Broome reads.