Hitler-themed pony in school assignment shocks parents in Illinois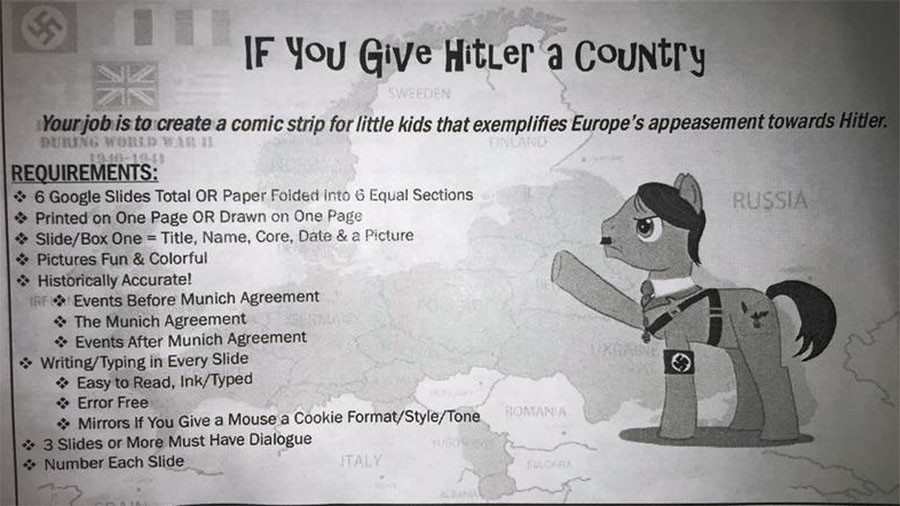 Eighth-grade students in northeastern Illinois were given a task involving a pony with a Nazi swastika, along with a Hitler-style haircut and moustache. Parents were not impressed with the school's methods, forcing it to apologize.
The bizarre in-class activity was handed to pupils of the Woodland Middle School in Gurnee by their language, arts and social studies teachers. Titled "If You Give a Hitler a Country" – an allusion to the classic children's book 'If You Give a Mouse a Cookie' – the assignment asked the children "to create a comic strip for little kids" to tell them about "Europe's appeasement towards Hitler."
Seemingly showing an example, the paper had a picture of a My Little Pony-like cartoon character giving a Nazi salute and brandishing a swastika on its right leg.
The assignment was posted on Facebook by the mother of one of the students, Kelly Masterson, raising eyebrows among many other parents online. Masterson said she was taken aback when she found her son Michael's work, in which SpongeBob SquarePants was pictured looking like Hitler, according to Daily Herald.
"There's got to be a better way to teach our kids about the horrific things Hitler did," another district parent, Dan Umansky, told the outlet, adding that he is eager to hear the school's explanation.
One of Michael's Jewish classmates refused to complete the task, asking to be given him another one, NBC reported, citing the boy.
"All of us were shocked and then some kids were being a bit immature and trying to make this assignment a little bit funny and it's disgusting," Michael said.
The Facebook post has provoked many concerned comments. In a letter, the school responded that the activity "was to help students understand the complex issues leading up to World War II," but not to minimize the atrocities. It also said "the 'fun' and 'cartoonish' elements of the activity that students were asked to complete did not fully represent the intent of the teachers" and apologized for "any concern" the incident had caused.
However, the parents do not seem to be satisfied with the response, with one attaching a screenshot of the letter and saying that the school decided to "do nothing."
You can share this story on social media: