'Dream big': Trump wants to 'make America great again' in space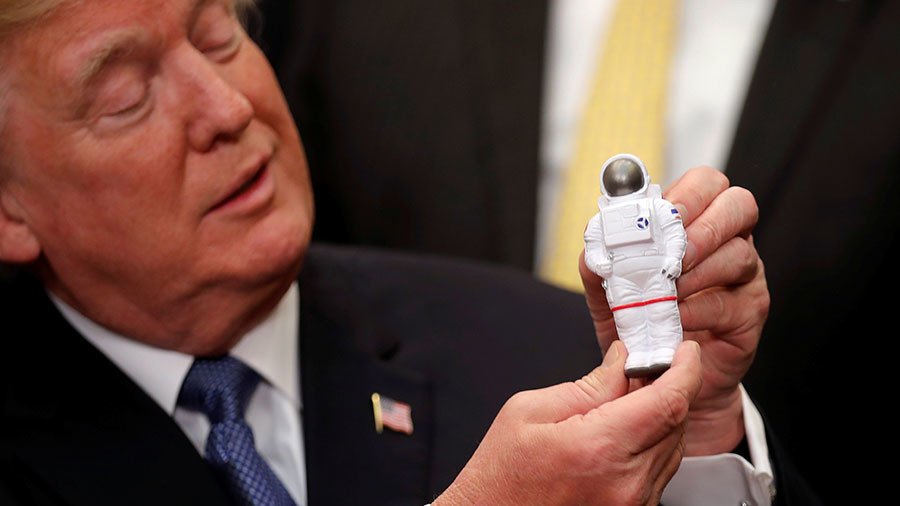 President Donald Trump has signed a space policy directive to refocus NASA's mission on space exploration and to send a "manned extraterrestrial exploration" mission back to the moon, and then on to Mars.
"We are dreaming big," Trump told a group of dignitaries gathered at the White House Monday. "The directive I'm signing today will refocus America's space program on human exploration and discovery."
"It marks an important step in returning American astronauts to the moon for the first time since 1972 for long-term exploration and use," he added.
Trump said the plan was not only to leave a flag and footprint on the moon, but to establish a foundation for an eventual mission to Mars, "and perhaps, to many worlds beyond."
"Toward Reclaiming America's destiny in space. Space has so much to do with so many applications, including a military application," said Trump. "We are the leader and we are going to stay the leader and increase it many fold."
Neither the president nor the policy directive qualified what "military application" might mean. Weaponizing space, however, would violate the 1967 Outer Space Treaty, a key component of international space law of which the US is a signatory. Among its principles, it bars signatories from placing weapons of mass destruction in orbit of Earth, or installing them on the Moon or any other celestial body. It exclusively limits the use of the Moon and other celestial bodies to peaceful purposes and expressly prohibits their use for testing weapons of any kind, conducting military maneuvers, or establishing military bases, installations and fortifications.
The Trump administration's policy will create incentives for private industry and international partners to return astronauts to the moon, "drive the burgeoning domestic space industry, bring new knowledge from the cosmos, and spur incredible technology," the White House said.
It said the US will launch astronauts on an American-made rocket and crew system, while multiple American companies will provide the Pentagon with "American engines and rockets to launch national security payloads."
"This is very exciting and very important for our country – and it also happens to mean jobs," Trump said as he signed the directive.
The event coincided with the 45th anniversary of the last crewed mission to land on the moon. The Apollo 17 lunar lander touched down on the moon on December 11, 1972. Buzz Aldrin, the second man to walk on the moon, attended the ceremony.
You can share this story on social media: