Alt-history? Trump claims US won two World Wars & defeated communism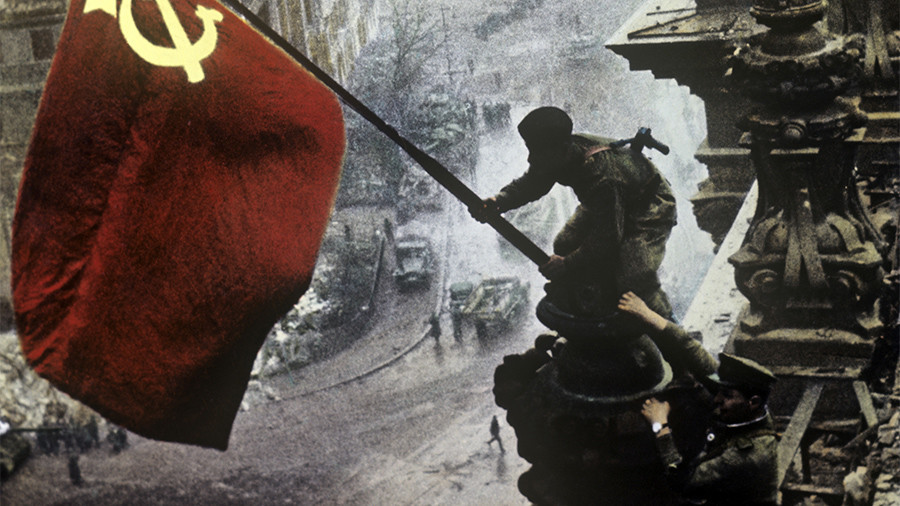 Donald Trump has delivered his own reading of history that is likely to raise eyebrows in Russia, China, Europe, and beyond. The tycoon-turned-president claimed the US has single-handedly won two world wars and "brought communism to its knees."
Trump appeared at a rally in Pensacola, Florida to voice his support for the Republican nominee Roy Moore, who is running for the Senate in Alabama. At first, he reprised the themes popular with his supporters, including illegal immigration, criminal gangs, and mainstream media.
The President was about 70 minutes into his appearance at the rally when he made the following remark: "We are the nation that dug out the Panama Canal, won two world wars, put a man on the moon and brought communism to its knees," Trump proclaimed to a cheering crowd in front of 'Merry Christmas' signs.
The crowd seemed unfazed by the mix of historic events with outrageous claims, cheering loudly when Trump added: "As long as we have the courage of our convictions, and the strength to see them through, then there is no goal beyond our reach."
Unluckily for Trump, who regularly lambasts media for publishing fake news, his own take on world history does not quite agree with what really happened. The US entered World War I in 1917, just one year before it ended. Washington began sending fresh troops to Europe, claiming some significant victories over the Germans, but mainly because they were unable to replace their losses or provide enough arms, munitions and food supplies for their troops.
For over three years, it was mostly Britain, France and the Russian Empire who bore the brunt of war. The allies engaged in several crucial battles against the German and Austro-Hungarian Empires, including the Battle of Verdun and the Battle of the Somme. Fierce fighting and heavy losses took their toll on the allies; the Russian Empire collapsed, while France and Britain had to deal with ruined economies, galloping inflation and social unrest.
In World War II, the US focused on fighting the Japanese Empire, its most dangerous enemy in the Pacific. Although the US declared war on Nazi Germany in 1941, in practice it sent military support to the British and the Soviets, delaying direct involvement in hostilities until 1944. By the time of the D-Day landings, the Red Army had already driven the Nazis out of Russia and the east of Europe, bringing the frontline closer to Berlin. Soviet troops captured the Third Reich's capital in May 1945, forcing Hitler's generals to surrender.
READ MORE: The sacrifice of the Russian people in World War II must never be forgotten
In a speech to the House of Commons in August 1944, Winston Churchill famously observed: "It is the Russian armies who have done the main work in tearing the guts out of the German army."
Meanwhile, Trump's remark on defeating communism may not sit well with several Asian nations, which are coincidentally trade partners of the US in the region, notably China and Vietnam. The Communist Party of China, ruling over world's most populous nation, may have a question or two about the alleged "defeat."
READ MORE: German trains troll Trump over #alternativefacts gaffe