Texas prisons ban 'A Charlie Brown Christmas' but not Hitler's 'Mein Kampf'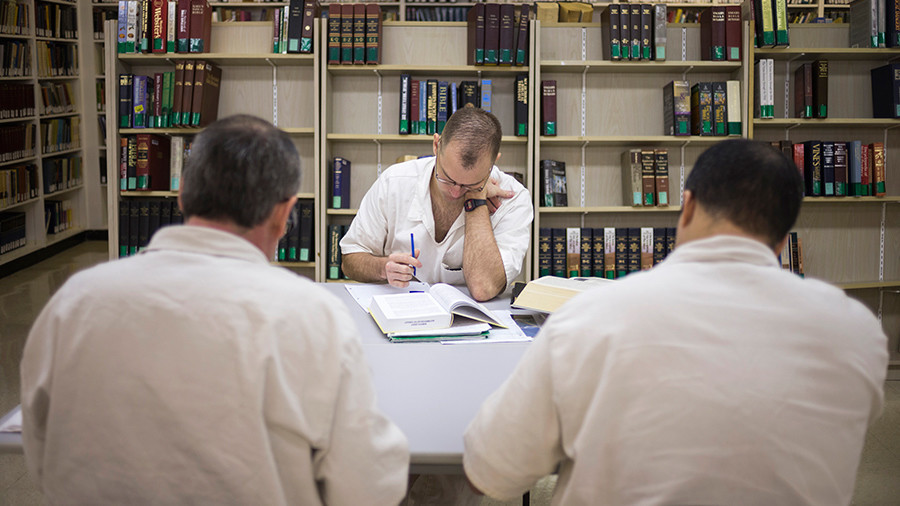 Thousands of books are considered prohibited reading for inmates doing time in Texas prisons. The list of banned and permissible material, however, has raised some eyebrows.
The Texas prison system has banned more than 10,000 selections from the shelves of their on-site libraries, yet it is sometimes difficult to find the logic behind the decision-making process.
For example, Alice Walker's 'The Color Purple,' which was awarded the 1983 Pulitzer Prize for Fiction, will not be found in Texas prisons. Yet inmates may cuddle up at night with a copy of Adolf Hitler's 'Mein Kampf,' the notoriously anti-Semitic tract that Hitler began writing, ironically, while behind bars.
'The Color Purple' is forbidden because it describes a rape scene.
Other selections with completely innocuous titles - including 'Hello Kitty,' 'Harry Potter Film Wizardry' and 'The Amazing Spider Man' - are prohibited not because of their content, but because they may contain pop-up sections or multilayer pages with which it may be possible to conceal contraband.
Other books are banned from prison libraries in Texas because they may provide certain information that prison officials would prefer not to be disseminated. For example, the 'History of Pubs and Pubs Signs' got blacklisted because it contains a section outlining the manufacture of alcohol.
Not everyone, however, agrees that there should be a blacklist for certain controversial books.
"To block access to 'Where's Waldo' on the one hand, and Shakespeare on the other, doesn't preserve order," James LaRue, the director of the Office for Intellectual Freedom of the American Library Association, told the New York Times. "It preserves ignorance and imprisonment. All too often, prison censorship, in addition to being an arbitrary abuse of authority, denies the incarcerated the chance to get out of jail and stay out."
Nevertheless, some of the titles from the lengthy banned list - including 'Concealed Carry Handguns,' 'The Complete Survival Guide,' 'The Idiot's Guide to Kickboxing' and 'FBI Handbook of Crime Scene Forensics' - seem like obvious choices to keep out of the hands of the general prisoner population.
At the same time, one may wonder how 'My Awakening' by David Duke, an American white nationalist, got the green light.
Novels of an erotic nature are only banned if the sexual behavior is unlawful, which explains why some of E.L. James' 'Fifty Shades' books were deemed inappropriate.
"If the book does not violate the uniform offender correspondence policy, then offenders are allowed to have it," Clark, a spokesman at the Texas Department of Criminal Justice, told The New York Times. "Offenders have access to thousands of publications."
Prisoners serving time in the Texas prison system have access to more than 248,000 titles, which were detailed by the Dallas Morning News in November.
According to the Texas Department of Criminal Justice, a publication may be banned because it contains:
- Information on the manufacture of explosives, weapons or drugs.
- Material that a reasonable person would construe as written solely for the purpose of communicating information designed to achieve the breakdown of prisons through offender disruption, like strikes, riots.
- Graphic presentations of illegal sex acts, "such as rape, incest, sex with a minor, bestiality, necrophilia or bondage."
- Sexually explicit images. "Naked or partially covered buttocks" does not necessarily mean automatic disapproval. Staff review required for publications containing nudity on a case-by-case basis.
- Information on criminal schemes or "how to avoid detection of criminal schemes."
- Contraband that cannot be removed.


You can share this story on social media: