Artist recreates Parthenon at Nazi book-burning site with 100,000 banned titles (PHOTOS)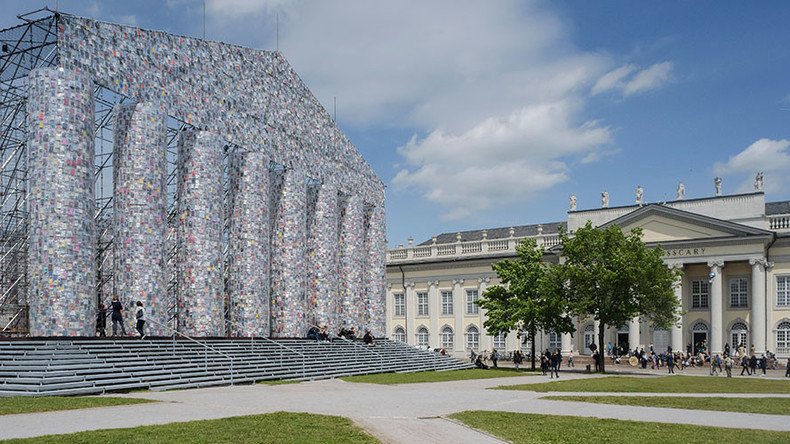 An artist recreated a full-size Greek Parthenon using 100,000 banned books at a historic Nazi book-burning site in Kassel, Germany.
Argentine artist Marta Minujin, 74, said she erected the monumental replica to symbolize the resistance to political repression. It stands as the centerpiece for this year's contemporary art show, "Documenta."
READ MORE: Hitler's Mein Kampf returns to Japanese schools as 'teaching material'
Called "The Parthenon of Books," the impressive work of art consists of 170 book titles that were, or still are, banned in countries around the world.
"The work has exactly the same dimensions as the Parthenon - 70 meters (230 feet) in length, 31 meters in breadth and 10 meters in height," said Pierre Bal-Blanc, one of Documenta's curators, to AFP.
Minujin and students from Kassel University constructed the full-size replica with steel and adorned it with the banned books inside plastic bags.
The site itself stands on the place where Nazis burned some 2,000 books in 1933 as part of its censorship campaign.
READ MORE: Hitler's 'Mein Kampf' becomes bestseller in Germany, 85K copies sold in 2016
Adolf Hitler's "Mein Kampf" is not included in the fixture as a stand against the Nazis who were notorious for banning books by Jewish or Marxist authors.
You can share this story on social media: