'Hands off our healthcare' – Dozens arrested at Capitol Hill protest over GOP tax bill
Published time: 5 Dec, 2017 22:59
Edited time: 6 Dec, 2017 07:35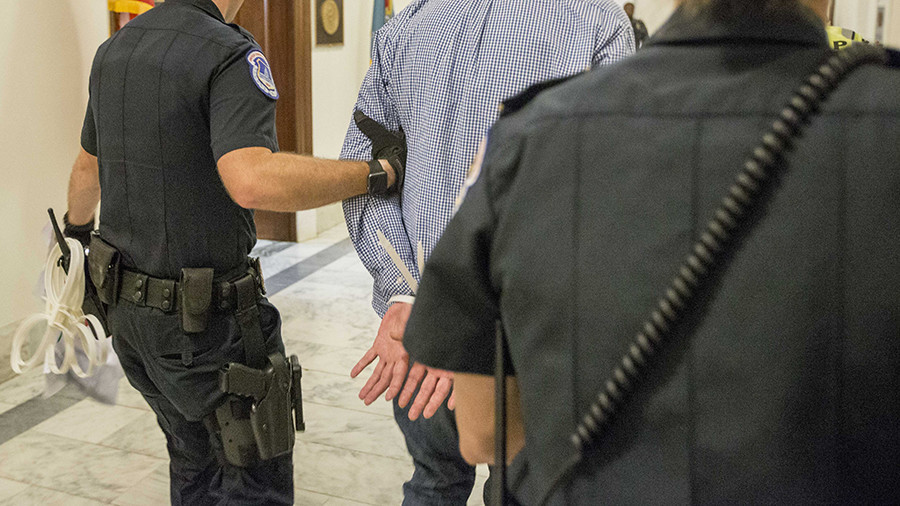 Hundreds of demonstrators blocked the corridors of a congressional office building in Washington, DC, seeking an audience with their representative to register their protest at the recently adopted tax bill. Dozens were arrested.
A number of California residents descended on the offices of House of Representative Dana Rohrabacher (R-California) to discuss the tax bill, but were barred from entering. Twenty protesters then staged a sit-in chanting, "Trickle down is just a myth, tax the rich."
Adopting the Occupy Wall Street technique of calling 'mic check,' protesters shared stories of people's medical problems.
Each account raised concern about the tax bill cutting funds to Medicare and abolishing the mandate to buy health insurance under the Affordable Care Act, also known as Obamacare.
"Keep us healthy and keep us alive, and we want you to vote no on the bill," they chanted.
US Capitol police were stretched as teams of other protesters were similarly staging protests outside the offices of other lawmakers, among them, Darrell Issa (R-California), Barbara Comstock (R-Virginia), and Ryan Costello (R-Pennsylvania)
"I was here this summer and we stopped that bill," one protester told the Washington-based online outlet News2Share. "The bill is trying to take away my healthcare. We don't want you are doing, and we expect you to represent us. Tax the corporation tax the wealthy, not the middle class,hands off our healthcare."
"Right now corporation and wealthy people are taxed at an insignificant rate so we need a tax system that reflects who has enough resources to contribute more," she added.
Using a bullhorn, police ordered protesters to leave or be arrested. Journalists were also warned they would be detained if they didn't move back down the hall as arrests were made.
"We are still processing the most recent arrests," Capitol Police told RT in an email, adding that they could not provide the number of arrested protesters just yet.
Standing among a dozen arrested protesters, Womens March leader Linda Sarsour told reporters: "We will continue our fight… Until the least among us can live safely, freely, and can thrive in society."
"I am a family doctor. I work in underserved communities in New York," another protester told News2Share on a Facebook Live broadcast.
"When ACA came, they could get insurance. ACA saved lives. Killing the individual mandate is going to kill the healthcare market. I took an oath to save lives," he said.