Homeless man saves 2 children from fire, hailed as 'true hero'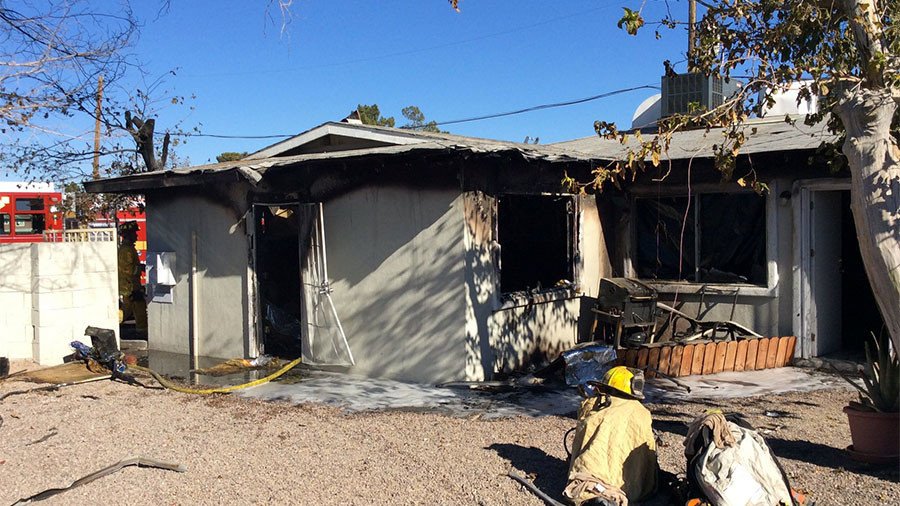 A homeless man from Las Vegas is a "true hero" for risking his own life in saving two children, a 3-year-old and 10-month-old, from a fire. If not his quick actions, the children could have been severely burnt or killed in the blaze, firefighters said.
Anival Angulo, 36, who currently has nowhere to live, was wandering the streets of Las Vegas on Friday evening when he saw a smoke coming from a nearby apartment building, Las Vegas Fire & Rescue said in a statement. When Angulo approached the complex, he noticed two crying children inside.
Angulo saw a little girl standing near the door of the smoke-filled apartment. It turned out that the security bar door was closed and the dead-bolt was locked. "She could not open the door, so Angulo [started] pulling on the steel door and was able to bend it upward," firefighters said.
"The little girl ran to him and wrapped her arms around his waist. He could see through the smoke the leg of an infant on the floor. He reached down and pulled the infant out," firefighters wrote.
Both children suffered minor smoke inhalation, but nothing serious. The Las Vegas firefighters said that Angulo's quick actions "certainly saved the children's lives," describing him as "a true hero." "It's obvious if this person hadn't been there, these children could've been burned or may have been killed in the fire," Tim Szymanski, a firefighter who took part in the rescue mission, told local KSNV.
Later it was revealed that the blaze had started on the stove in a pan of cooking fat. The fire quickly spread across the kitchen, frightening the children. The children's grandfather, who was watching them, was in a back bedroom but wasn't able to get to the children through the blaze, firefighters later told KSNV.
Angulo modestly explained his actions to KSNV. "Went to the door and saw the babies so I jumped the fence and I pulled on the screen door and I wrapped up the babies and pulled them out. I knew I had to get them out," he said.
People on social media thanked the brave man for saving the children, with some suggesting that he should be rewarded with "a new home" and a job to start things afresh.
You can share this story on social media: