Armed US drones to start flying combat missions over Niger – reports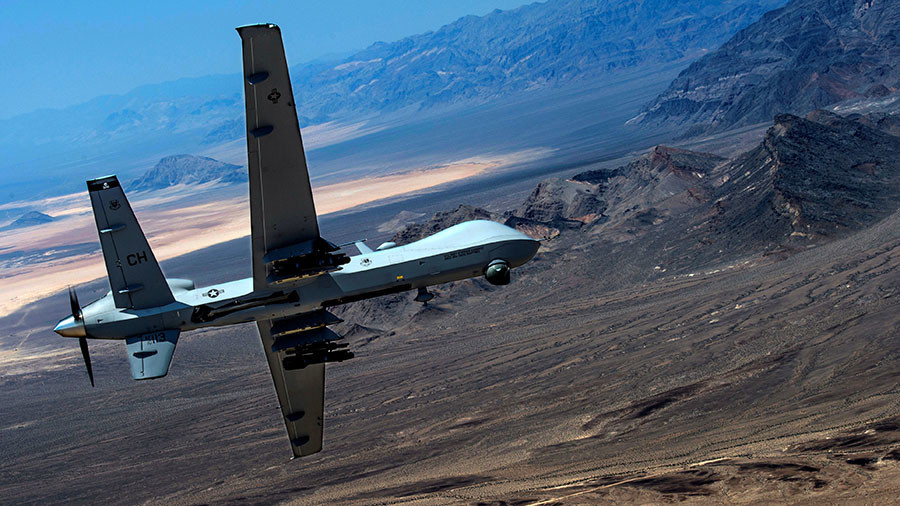 Armed American drones will soon begin flying over Niger following approval of their use by the West African nation. The move marks a significant expansion of the US military's footprint in this part of Africa, where its reach has so far been limited.
The government of Niger has permitted the Pentagon to operate armed drones out of the country's capital, Niamey, defense officials said on Thursday, according to the New York Times. The newspaper cited a memorandum of understanding signed earlier this week by the US African Command (AFRICOM) and the West African nation.
The memorandum calls for the unmanned aerial vehicles (UAVs) to be armed by the AFRICOM initially. The drones will eventually be re-deployed to a Nigerien air base in Agadez, along with 500 US troops.
Previous media reports indicated that Niger had requested the deployment of armed US drones in a bid to wipe out Boko Haram and other jihadist groups operating on its border with Mali, but it was unknown that an agreement had been reached. Speaking to Reuters, an unnamed US official also said that permission for the use of armed drones had been granted earlier this week, but the capability had not yet been put to use.
A spokeswoman for the Pentagon declined to disclose specific details of the drone deployment. "The government of Niger and the US stand firm in working together to prevent terrorist organizations from using the region as a safe haven. For operational security reasons, I will not comment on specific military authorities or permissions," Major Audricia Harris said.
"This operation supports the long-term strategic partnership between the United States and Niger, as well as the ongoing effort to counter violent extremism throughout the region," the Defense Department said in an emailed response to the New York Times.
In early November, Nigerien Defense Minister Kalla Mountari told Reuters in an interview that he "asked them some weeks ago to arm them [the drones] and use them as needed." Asked if the US had accepted the request, he said: "Our enemies will find out."
The development would allow the US military to significantly expand its reach in West Africa. So far, American aircraft are flying missions against targets in Yemen, Somalia and Libya from its bases in Djibouti and southern Italy, according to the NYT.
It also comes two months after a team of four US Green Berets were ambushed and killed in Niger. According to a Wall Street Journal report, US military officials requested to send an armed drone to provide air cover for the team, but it was stuck in the approval process going through the Pentagon, State Department and Nigerien government.
The US is not the only nation seeking to deploy armed UAVs to Niger. France, which deployed some 4,000 troops to its former colonies Burkina Faso, Chad, Mali, Mauritania and Niger as part of anti-terrorism Operation Barkhane, is also looking at the possibility of having their US-built Reaper drones armed.
"Beyond our borders, the enemy is more furtive, more mobile, disappears into the vast Sahel desert and dissimulates himself amidst the civilian population," French Defense Minister Florence Parly said in September, according to Reuters.
"Facing this, we cannot remain static. Our methods and equipment must adapt. It is with this in mind that I have decided to launch the process to arm our intelligence and surveillance drones."
The US military extensively used armed drones to conduct airstrikes in various hotspots in the Middle East, South Asia and Africa, causing civilian casualties in many cases. In Somalia, where American troops are targeting Al-Shaabab Islamic militants, there have been 30 drone strikes during 2017, which killed up to 208, including at least three civilians, according to the Bureau of Investigative Journalism.


You can share this story on social media: