US backtracks on pledge to give up cluster bombs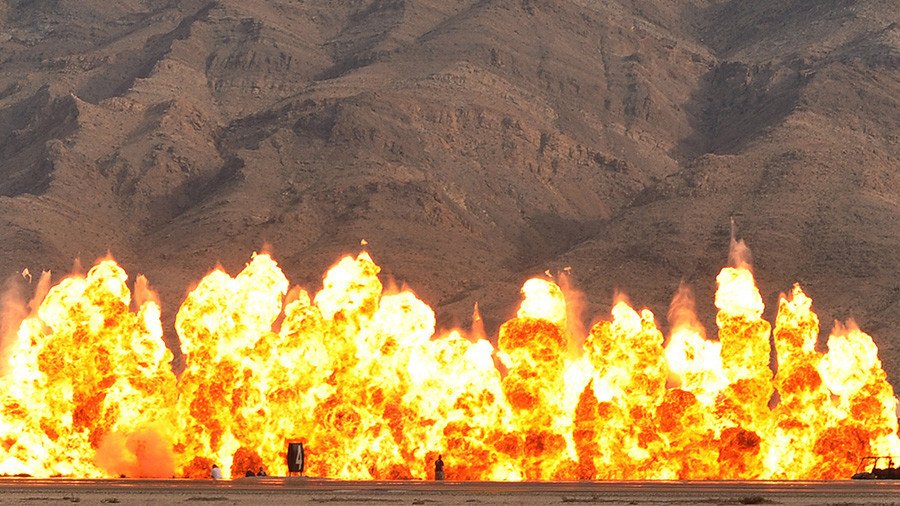 The Pentagon has postponed indefinitely a ban on older generations of cluster bombs that was set to take effect in 2019. In its place, a vague policy designed to keep "legitimate weapons with clear military utility" in use.
Cluster bombs are anti-personnel and anti-vehicle weapons launched from aircraft or artillery that disperse as many as several hundred bomblets over a large area. The munitions sometimes fail to detonate on impact and continue to pose mortal danger to civilians for years after conflicts end.
Pentagon putting off indefinitely a planned 2019 ban on using cluster bombs; they release explosive bomblets that can kill indiscriminately and pose hazards to civilians: https://t.co/HFQWF21w9n

— AP Politics (@AP_Politics) November 30, 2017
The Department of Defense said it will not meet a January 1 2019 deadline, set in 2008 by the George W. Bush administration, for cluster bomb technology to meet a performance standard of failing to detonate 1 percent or less of the time.
"We cannot risk mission failure or accept the potential of increased military and civilian casualties by forfeiting the best available capabilities," the Pentagon said in a statement about delaying the ban, according to Reuters.
Cluster munitions have been widely condemned by rights groups for their impact on civilians. The new policy embraced by the Trump administration says that "cluster munitions are legitimate weapons with clear military utility," and that they may result in less unintended harm to civilians, according to Stars and Stripes.
The new rules authorize the use of existing cluster bombs "until sufficient quantities" of a safer version are developed. It does not specify what sufficient quantities are, and defines "safer" as meeting the 1 percent standard from the previous policy, by developing a self-destruct mechanism in the bomb, or removing the bomb's ability to explode by exhaustion of its power source.
"The Department of Defense has determined that cluster munitions remain a vital military capability in the tougher warfighting environment ahead of us, while still a relatively safe one," Pentagon spokesman Tom Crosson said in a statement. "This was a hard choice, not one the department made lightly."
Several Democrats in the Senate criticized the decision, with Dianne Feinstein (D-California) calling it "unbelievable" while Senator Patrick Leahy (D-Vermont) said it was another example of the Pentagon failing to keep promises.
"A decade ago, the Pentagon announced that by 2018 it would no longer use cluster munitions with a failure rate exceeding one percent. On the eve of that deadline, the Pentagon has decided to go back on its commitment, just as it did after pledging to develop alternatives to anti-personnel landmines more than two decades ago," Leahy said in a statement. "In these cases the Pentagon not only can't be relied on to keep its commitment; it is perpetuating the use of an indiscriminate weapon that has been shown to have high failure rates, with devastating consequences for civilians."
Mary Wareham, arms division director for Human Rights Watch, also spoke up against the new policy.
"The US says it can't produce 'safe' cluster munitions, so it has decided to keep using 'unsafe' ones," she said. "We condemn this decision to reverse the long-held U.S. commitment not to use cluster munitions that fail more than 1 percent of the time, resulting in deadly unexploded sub-munitions."
A 2008 Convention on Cluster Munitions bans all use, production, transfer and stockpiling of the weapon. Over 100 countries signed the pact as full parties and 17 as signatories, but the US declined to do so.
The US has used cluster munitions in Cambodia, Laos, Vietnam, Grenada, Lebanon, Libya, Iran, Iraq, Kuwait, Saudi Arabia, Bosnia and Herzegovina, Serbia (including Kosovo), Montenegro, Afghanistan and Iraq. Amnesty International documented a 2010 US attack on Yemen which apparently used cluster bombs and killed 41 civilians including 21 children.
In 2016, the Obama administration halted its transfer of cluster munitions to Saudi Arabia, after rights groups condemned use of indiscriminate weapons in Yemen.
You can share this story on social media: